Award-winning Next-Generation Firewall and Threat Prevention
The Check Point 1100 Appliances provide an easy-to-deploy, all-in-one threat prevention solution including the top-rated next-generation firewall technology that received a "Recommend" rating from the latest NSS Labs report. Businesses can now protect their branch offices with security technologies of the same level of sophistication and effectiveness as those protecting their corporate networks.
Simple Configuration and Deployment
The Check Point 1100 Appliances can be up-and-ready in minutes, offering hassle-free deployment to branch offices with minimal IT support staff. Even non-technical staff can easily perform initial setup and configuration via a simple start-up wizard, without the need of corporate IT staff.
Flexible Network Connections with High Capacity
All 1100 Appliances come standard with 10 x 1Gbps Ethernet ports. The optional integrated ADSL modem eliminates the need for a separate external ADSL modem. And, the included USB and PCI Express card slots allow administrators to plug in a compatible third party 3G and 4G modems, providing additional WAN connectivity or a redundant Internet link for maximum reliability. For added flexibility and convenience, the wireless version of the 1100 Appliance includes a WiFi access point (802.11b/g/n) that supports WEP, WPA and WPA2 authentication.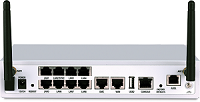 Comprehensive Security
Leveraging the proven and flexible Software Blade Architecture, the 1100 Appliances deliver a rich set of security functionalities and capabilities to the branch office environment. Most of the available Check Point Software Blades are currently supported, including:
Firewall
IPsec VPN
Mobile Access1
Advanced Networking & Clustering
Identity Awareness
IPS
Application Control
URL Filtering
Antivirus
Anti-Spam
1 SSL VPN Portal not supported
Best-in-Class Management with Local and Central Management Capabilities
A simple web-based local management interface allows administrators working on-site to secure a branch office in minutes. The setup wizard enables a preset security policy, customize the device configuration and security policy with the web-based management interface, monitor the device and security with easy-to-understand logs and reports.
Administrators located in the corporate headquarters can leverage Security Management or Multi-Domain Security Management to centrally manage and define security policy for the entire network – including the 1100 Appliance located in the branch office. With SmartProvisioning™, a profile-based management tool designed for large-scale deployments, administrators can define a single security and device profile, and apply it simultaneously to thousands of 1100 Appliances – dramatically reducing deployment time and administrative overhead.