Reduce TCO and Increase Protection with a Consolidated Security Architecture
Organizations frequently implement multiple cyber security solutions in pursuit of better protections. As a result, they are frequently left with a patchwork security architecture that results in a high TCO.
By adopting a consolidated security approach with Check Point Infinity architecture, businesses realize preemptive protection against advanced fifth-generation attacks, while achieving a 50% increase in operational efficiency and 20% reduction in security costs.
A Consolidated Cyber Security Architecture
The first consolidated security architecture across networks, cloud, mobile and IoT, providing the highest level of threat prevention against both known and unknown cyber-threats.
Protection across the entire IT infrastructure: networks, cloud, endpoints, and mobile

64 different threat prevention engines blocking against known and unknown threats, powered by threat intelligence

Unified security management;
Full automation and seamless integration

German Engineering Strengthens Threat Prevention and Halves Administration Time with Infinity
We researched the market and found Check Point to be the best overall solution. It convinced us it had the most effective unified approach to cybersecurity.
— Marcus Morig, Head of Information Technology, Motortech
Optimal Media protects digital assets with
Check Point Infinity
The integrated Check Point solution has increased our cyber security level and saved us around four hours' work per week.
— Christoph Andreas, IT Systems & Support Team Leader, Optimal Media
A Simple and Predictable Business Model
Infinity Total Protection
Get the full threat prevention your enterprise needs in a simple all-inclusive, per-user, per-year, subscription offering. Infinity Total Protection is a revolutionary security business model that enables you to consume all of the products and solutions included within the Check Point Infinity security architecture, along with all the associated services you need.
Efficient Security Architecture
Centralized management, Unified Policy and Seamless Integration
With a centralized security management and flexible API's, Infinity empowers security teams with efficient policy management, seamless integration, and full visibility into their entire security posture; so they can quickly detect and mitigate threats in real-time.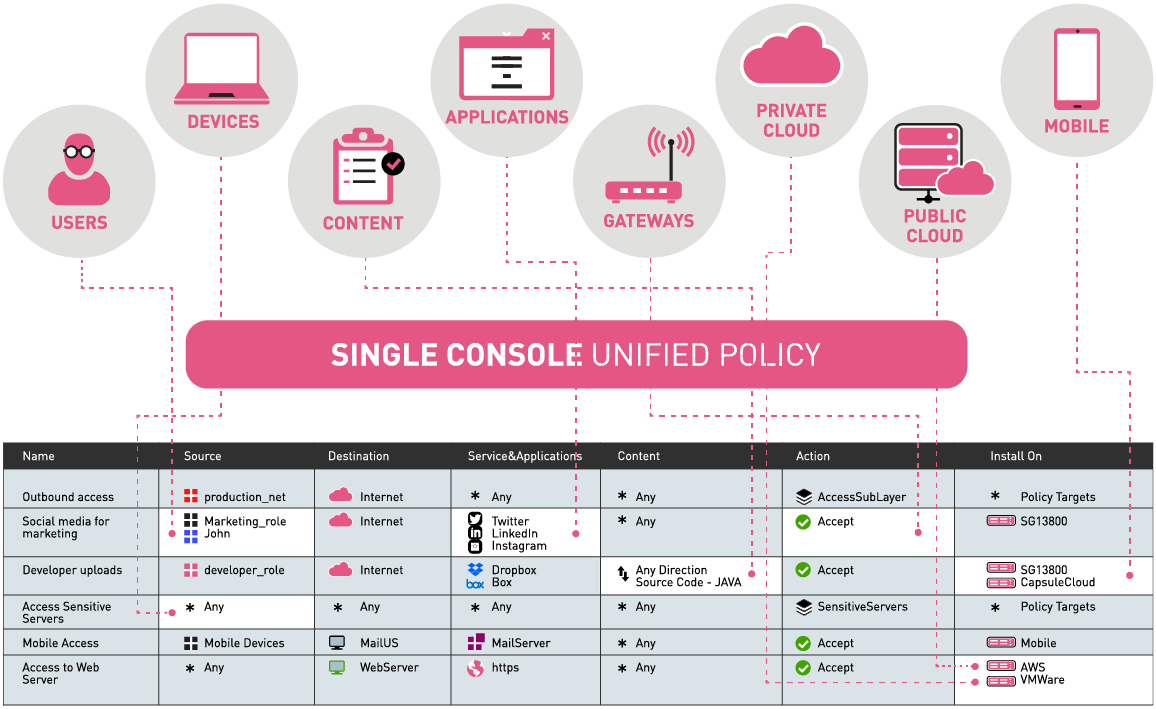 Across Networks, Cloud, Endpoint, Mobile and IoT
As cyber-threats grow in quantity and complexity, Infinity enables you to continuously monitor your
environment, identify the most important threats, and effectively prevent them.
A Consolidated Zero Trust Security Architecture
With Cyber-threats existing inside and outside the security perimeter, it has become essential to adopt the Zero Trust Security Approach.
With Check Point Infinity you can implement all of the seven principles of the Zero Trust security model, and keep business data protected, anywhere.