QUANTUM 6700

SECURITY GATEWAY

Check Point Quantum 6700 Next Generation Firewalls enables enterprises to deploy the industry's leading threat prevention capabilities at all points of their infrastructure, scaling security almost infinitely according to their changing business needs. It also dramatically accelerates the efficiency of their security operations. This enables enterprises to prevent and block even the most advanced attacks, before they can disrupt business.

Always Protected
Against Gen V
Highest caliber prevention
with unified security

On-demand expansion
with hyperscalability

Cut operation management
time by up to 80%

Performance measured with enterprise testing conditions. Additional performance details on page 3.
1: Includes Firewall, Application Control, and IPS.
2: Includes Firewall, Application Control, URL Filtering, IPS, Antivirus, Anti-Bot and SandBlast Zero-Day Protection
Prevent Known and Zero-day Threats
Check Point SandBlast Network is an evasion-resistant sandbox that provides zero-day protection from advanced and unknown threats. SandBlast Threat Extraction (CDR) ensures quick delivery of safe email and web content to users.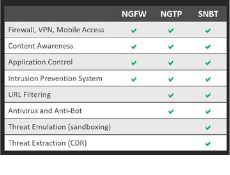 All-inclusive Security Solutions
Check Point 6700 security gateways include all security technologies including the SandBlast (sandboxing) software package for one year. Purchase a renewal for NGFW, NGTP or SandBlast (SNBT) for subsequent years as you like.
High Performance Options
Purchase the affordable Plus package and get a base system plus 4x 10GbE SFP+ ports with transceivers, 2x AC power supplies, Lights-out Management and 16 GB of memory for high connection capacity.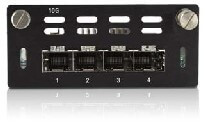 Remote Management and Monitoring
A Lights-Out-Management (LOM) card provides out-of-band management to remotely diagnose, start, restart and manage the appliance from a remote location.
ENTERPRISE-GRADE PLATFORM

Enterprise Test Conditions
Threat Prevention1 (Gbps)
5.8
Enterprise Test Conditions
Firewall 1518B UDP (Gbps)
38
Concurrent connections3
2/4/8M
1: Includes Firewall, Application Control, URL Filtering, IPS, Antivirus, Anti-Bot and SandBlast Zero-Day Protection. 2: Includes Firewall, Application Control and IPS. 3: Performance measured with default/Plus/maximum memory.
1x CPUs, 6x physical cores
1x 480 GB SSD storage
1 AC power supply (2x in Plus)
8, 16 and 32 GB memory options
Lights-Out-Management (included in Plus)
Virtual Systems (Base/Plus/max mem): 10/20/20
Network Expansion Slot Options (1 of 1 slots open)
8x 10/100/1000Base-T RJ45 port card, up to 18 ports
4x 1000Base-F SFP port card, up to 4 ports
4x 10GBase-F SFP+ port card, up to 4 ports
2x 40GBase-F QSFP+ port card, up to 2 ports
First Time Prevention Capabilities
CPU-level, OS-level and static file analysis
File disarm and reconstruction via Threat Extraction
Average emulation time for unknown files that require full sandbox evaluation is under 100 seconds
Maximal file size for Emulation is 100 MB
Emulation OS Support: Windows XP, 7, 8.1, 10
Use 8,000+ pre-defined or customize your own applications
Accept, prevent, schedule, and apply traffic-shaping
Classify 700+ pre-defined data types
End user and data owner incident handling
Dynamic User-based Policy
Integrates with Microsoft AD, LDAP, RADIUS, Cisco pxGrid, Terminal Servers and with 3rd parties via a Web API
Enforce consistent policy for local and remote users on Windows, macOS, Linux, Android and Apple iOS platforms
Total physical and virtual (VLAN) interfaces per appliance: 1024/4096 (single gateway/with virtual systems)
802.3ad passive and active link aggregation
Layer 2 (transparent) and Layer 3 (routing) mode
Active/Active L2, Active/Passive L2 and L3
Session failover for routing change, device and link failure
ClusterXL or VRRP
NAT66, NAT64, NAT46
CoreXL, SecureXL, HA with VRRPv3
Unicast and Multicast Routing (see SK98226)
OSPFv2 and v3, BGP, RIP
Static routes, Multicast routes
Policy-based routing
PIM-SM, PIM-SSM, PIM-DM, IGMP v2, and v3
Single Power Supply rating: 300W
AC power input: 100 to 240V (50-60Hz)
Power consumption max: 126W
Maximum thermal output: 429.9 BTU/hr.
Enclosure: 1RU
Dimensions (WxDxH): 17.2 x 20 x 1.73 in.(438 x 508 x 44mm)
Weight (Base/Plus): 16.5/17.4 lbs. (7.5/7.9 kg)
Operating: 0° to 40°C, humidity 95%
Storage: –20° to 70°C, humidity 95%
Safety: UL, CB, CE, TUV GS
Emissions: FCC, CE, VCCI, RCM/C-Tick
Environmental: RoHS, WEEE, REACH1, ISO140011
ORDERING QUANTUM 6700 SECURITY GATEWAYS