Endpoint Protection
und Threat Prevention
Die heutigen grenzenlosen Netzwerke definieren den Endgeräteschutz neu. Mit einer Vielzahl von Endgeräten, die frei auf Netzwerke zugreifen können, speichern sie sensible Unternehmensdaten. Da 70 Prozent der erfolgreichen Datenschutzverletzungen auf Endgeräten beginnen,1 kann ein präventiver Ansatz zur Endgerätesicherheit helfen, Cyberangriffe zu stoppen. SandBlast Agent ist die fortschrittliche Lösung zum Schutz von Endgeräten und zur Abwehr von Bedrohungen zum Schutz Ihres Unternehmens.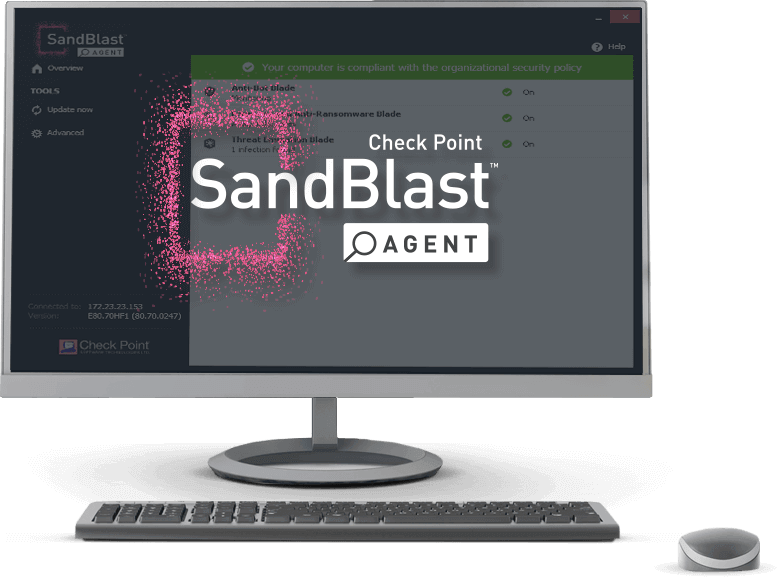 Webinar: "Endpoints at the Edge: The Stakes are Rising
Innovative Technologien zur Threat Prevention
Uses static, dynamic, and behavioral detection and prevention technologies with advanced artificial intelligence to provide high catch rates and low false positives
Aufschlussreiche Vorfallserkennung und -reaktion
Assures continuous collection of comprehensive and complete raw forensics data, employing full attack remediation capabilities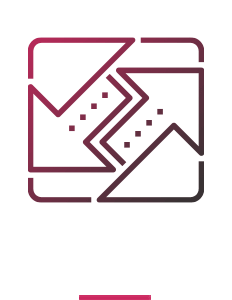 Komplette Endgerätesicherheitslösung
Integrates into Check Point Infinity to get maximum prevention across all attack surfaces, shared intelligence, and a single point of management (cloud service or on premise)
Forrester Research ernennt Check Point zum Marktführer bei Endpoint Security Suites
Wichtigste Produktvorteile
Ausgereifte Endgerätfunktionen zum Schutz vor bekannten und unbekannten Cyberangriffen
Best Practices der Branche erhöhen die Endgerätesicherheit zur Bekämpfung gezielter und ausweichender Angriffe.
Hohe Fangraten und geringe Fehlalarme sorgen für eine effiziente Sicherheitswirksamkeit und effektive Prävention.
Die automatisierte forensische Datenanalyse bietet detaillierte Einblicke in Bedrohungen.
Vollständige Eindämmung und Behebung von Angriffen zur schnellen Wiederherstellung infizierter Systeme.
SandBlast Agent-Funktionen
SandBlast Agent ist eine komplette Endgeräte-Sicherheitslösung, die eine Vielzahl von fortschrittlichen Funktionen zur Abwehr von Endgerätebedrohungen bietet, damit Sie in der heutigen gefährlichen Bedrohungslandschaft sicher navigieren können.
Es bietet ein umfassendes System zur proaktiven Verhinderung, Erkennung und Behebung vermeidbarer Malware-Angriffe.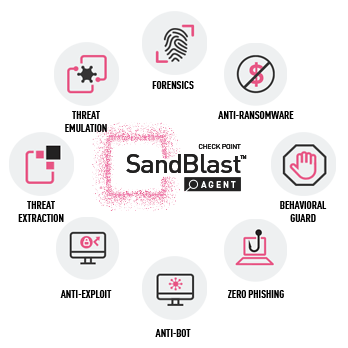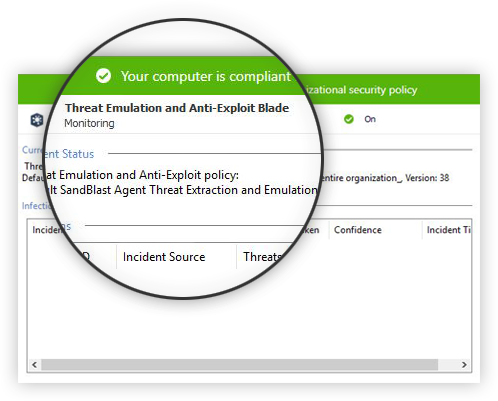 Threat Emulation
Evasion-resistant sandbox technology detects malicious behavior and prevents potential attacks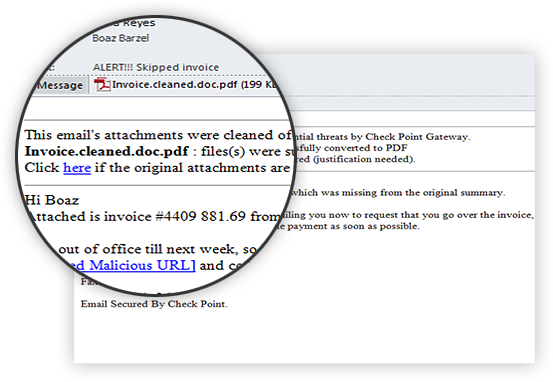 Threat Extraction
Reconstructs downloaded files, delivering clean, risk-free files to users in real time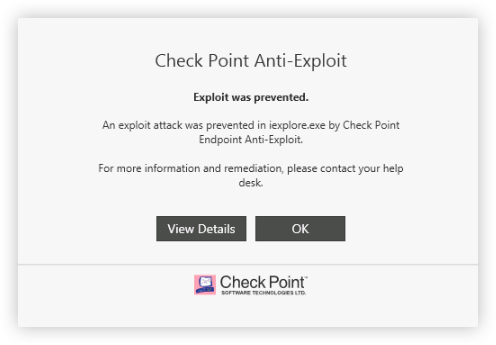 Anti-Exploit
Protects and prevents vulnerable applications and systems from exploit attacks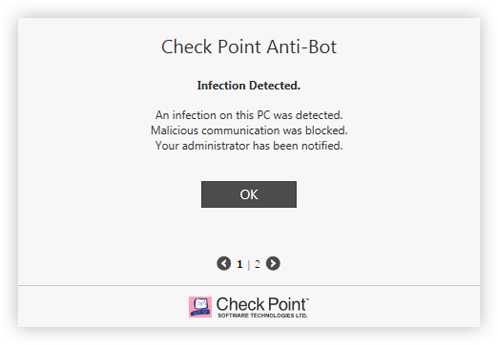 Anti-Bot
Detects, contains, and remediates infected hosts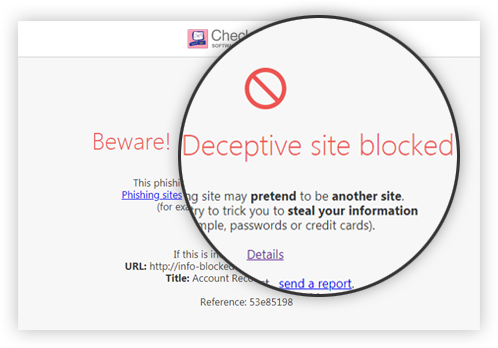 Zero-Phishing
Blocks deceptive phishing sites and alerts on password reuse in real time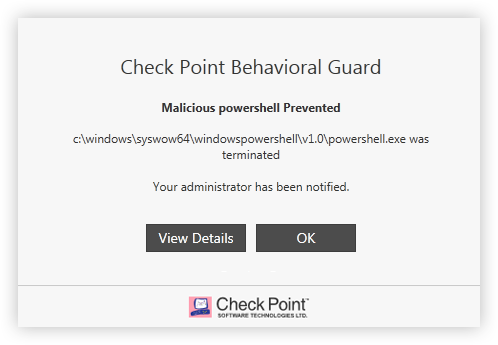 Behavioral Guard
Prevents, detects, and remediates even the most evasive attacks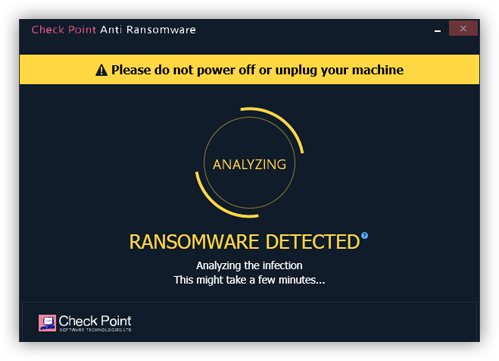 Anti-Ransomware
Detects and quarantines the most evasive ransomware variants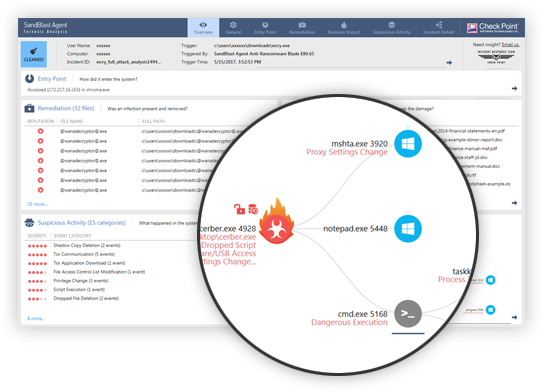 Forensics
Records and analyzes all endpoint events to provide actionable attack forensic report
Cloud Management or On-premise
SandBlast Agent offers unified, scalable, and granular management available as a cloud service or installed on your premise.
Unified – Manage all your endpoint security needs from a single console
Scalable – Use one management infrastructure to manage your endpoints, from a few to hundreds of thousand devices
Granular – Choose the management granularity that fits your needs. Relay product best practices based on defaults; go deeper by configuring everything on your system, or anywhere in between


SandBlast Agent cloud management service is fully deployed,maintained, and optimized by Check Point enabling rapid deployment, elastic growth, constant server updates and location independent.
SandBlast Agent - Optionen und Spezifikationen
Features

Data
Protection

Basic

Advanced

Complete

Unified Endpoint Security
Advanced

Unified Endpoint Security
Complete

Deployment
Agent

✓

✓

✓

✓

✓

✓

Browser Extension

✓

✓

✓

✓

✓

Mobile App

✓

✓

Reduce Attack Surface
Endpoint Firewall

✓

✓

✓

✓

✓

✓

Application Control

✓

✓

✓

✓

✓

Endpoint Compliance

✓

✓

✓

✓

✓

✓

Port Protection (Peripheral control)

✓

✓

✓

✓

✓

✓

Remote Access VPN

✓

✓

✓

✓

✓

✓

Data Protection: Full disk and removable storage encryption

✓

✓

✓

Prevent Attacks Before They Run
Endpoint Anti-Virus: Known signatures, heuristics

✓

✓

✓

✓

✓

Static Analysis: Machine learning-based prevention

✓

✓

✓

✓

✓

Anti-Exploit

✓

✓

✓

✓

✓

Zero-Phishing: Anti-phishing, credentials reuse prevention

✓

✓

✓

✓

✓

Threat Emulation (SandBox)

✓

✓

✓

✓

Threat Extraction (Document sanitization)

✓

✓

✓

✓

Runtime Detection and Protection
Anti-Ransomware

✓

✓

✓

✓

✓

Behavioral Guard: Mutations of known malware, generic unknown malware

✓

✓

✓

✓

✓

Behavioral Guard: File-less attacks

✓

✓

✓

✓

✓

Anti-Bot: Malicious Command and Control (C&C) traffic detection

✓

✓

✓

✓

✓

Anti-Evasion: Evasion techniques detection

✓

✓

✓

✓

✓

Contain and Remediate
Block traffic to Command and Control (C&C) servers

✓

✓

✓

✓

✓

Lateral movement prevention and infected machine isolation

✓

✓

✓

✓

✓

Process termination and file quarantine

✓

✓

✓

✓

✓

Encrypted file restoration

✓

✓

✓

✓

✓

Full attack chain sterilization

✓

✓

✓

✓

✓

Attack Investigation and Response (EDR)
Forensics collection

✓

✓

✓

✓

✓

Automated event forensics analysis report

✓

✓

✓

✓

✓

Threat hunting

✓

✓

✓

✓

✓

Multi-surface attack immunization (IoC and IoA sharing)

✓

✓

✓

✓

✓

Cloud Management

✓

✓

✓

✓

✓

✓

SandBlast Mobile (iOS and Android threat prevention)

✓

✓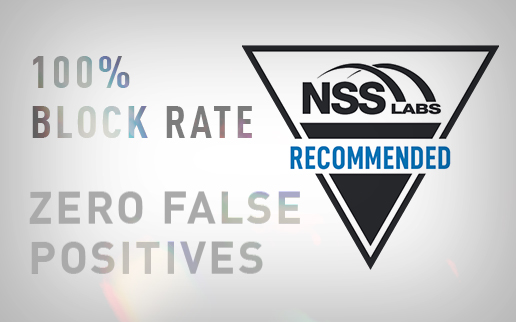 SandBlast Agent von NSS als "Empfohlen" bewertet.
Damit wurden wir seit 2010 zum 18. Mal von NSS als "Empfohlen" bewertet.
Advanced Endpoint Protection (AEP) – Test Highlights:
100 % HTTP-Blockrate
100 % E-Mail-Blockrate
100 % Offline-Bedrohung-Blockrate
100 % Ausweichblockrate
0 % Fehlalarme
Erfahren Sie mehr über unsere Advanced Endpoint Threat Prevention
Einheitliche Sicherheitsinfrastruktur
SandBlast Agent ist ein Kernprodukt von Check Point Infinity, eine vollständig konsolidierte Cyber-Sicherheitsarchitektur, die einen beispiellosen Schutz vor Gen V-Megacyberattacks über Netzwerk, Endgeräte, Cloud und Mobilgeräte bietet. Die Architektur ist darauf ausgelegt, die Komplexität wachsender Konnektivität und ungenügender Sicherheit zu lösen.
 
Starten Sie noch heute Ihren SandBlast Agent Proof-of-Concept.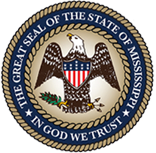 "Das Anti-Ransomware-Blade ist eine bemerkenswerte Technologie. Es schützt vor Ransomware ohne dabei auf Signaturen zurückgreifen zu müssen. Dies bedeutet: Selbst wenn Ihre Internetverbindung unterbrochen wird, sind Sie immer noch vor unbekannten Varianten geschützt."
– Russell Walker, Chief Technology Officer, Mississippi Secretary of State.