Security Gateways für Rechenzentren und High-End-Unternehmen
Der Schutz moderner Rechenzentren vor GenV-Angriffen erfordert hochleistungsfähige, skalierbare Security Gateways, die über das NGFW hinausgehen, um die beste Threat Prevention und Optimierung für hybride Cloud-Umgebungen zu bieten. Check Point 26000 und 28000 Quantum Security Gateways ™ umfassen die preisgekrönte SandBlast Network-Bedrohungsabwehr, Zuverlässigkeit auf Telco-Niveau und eine hyperskalierbare Leistung zur Bedrohungsabwehr von bis zu 1,5 Terabit/s.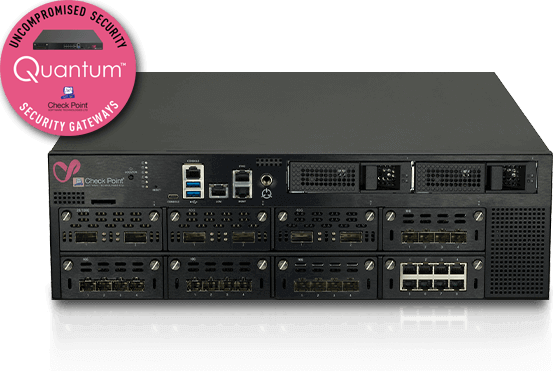 Quantum 26000, 28000 Security Gateways:
Beste Sicherheit, ultimative Hardware
Für die ultimative Sicherheit und Skalierbarkeit von Rechenzentren bieten die Modelle 26000 und 28000 60 Sicherheitsdienste mit Leistung auf Telco-Niveau, einschließlich 30 Gbit/s zur Bedrohungsabwehr. Die Zuverlässigkeit und Erweiterbarkeit der Telco-Hardware umfasst 100% SSDs, die höchste Portdichte in der Branche, modulare Erweiterung auf bis zu 16 x 100 GbE, Umweltfreundlichkeit mit einer 2,5-fachen Energieeffizienz im Vergleich zu anderen Anbietern und eine einheitliche Richtlinienverwaltung im gesamten Rechenzentrum und in der Hybrid-Cloud.

Always Protected
Against GenV Attacks
Highest caliber prevention
with unified security

On-demand expansion with
Hyperscalability
Cut operation management
time by up to 80%
Vorstellung von
NEUE QUANTUM SECURITY GATEWAYS
All Quantum Security GatewaysTM come with Check Point's award-winning
SandBlast Network right out of the box.
Check Point schützt Unternehmen vor der 5. Generation komplexer Multi-Vektor-Cyber-Angriffe
gegenüber dem Schutz lediglich der 3. Generation durch andere Firewalls.
Quantum Security Gateways™
Optimale Sicherheit für Unternehmen aller Größen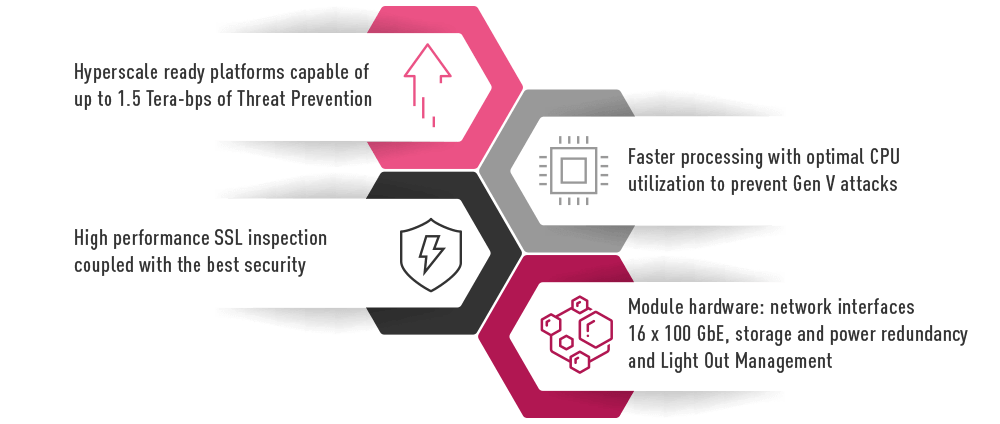 Einer der führenden Anbieter im Gartner Enterprise
Network Firewall (NFW) MQ 2019
The most advanced threat prevention,

SandBlast, continues to innovate and enhance anti-ransomware and CPU level emulation capabilities, improving performance, prevention and protection against zero-day exploits

Completeness of security vision,

protecting small to midsize enterprises against even the most sophisticated attacks with a comprehensive product portfolio including Next Generation Firewalls and a focused SMB strategy providing multiple UTM models supporting Internet, VDSL and 4G/LTE interfaces with built-in routing capabilities to the enterprise

Largest offering of security solutions,

covering network, cloud, mobile and endpoints. Check Point Security-Gateways bieten Funktionen wie granulare netzwerkbasierte DLP mit über 700 vorgefertigten Datentypen für Web-, FTP- und E-Mail-Datenverkehr.

Top tier security management,

features centralized management control across all networks and cloud environments, increasing operational efficiency and lowering the complexity of managing your security
Vom Zero-Touch-Zugriff bis zur Vorbeugung vor Bedrohungen
für die Installation von New Gateway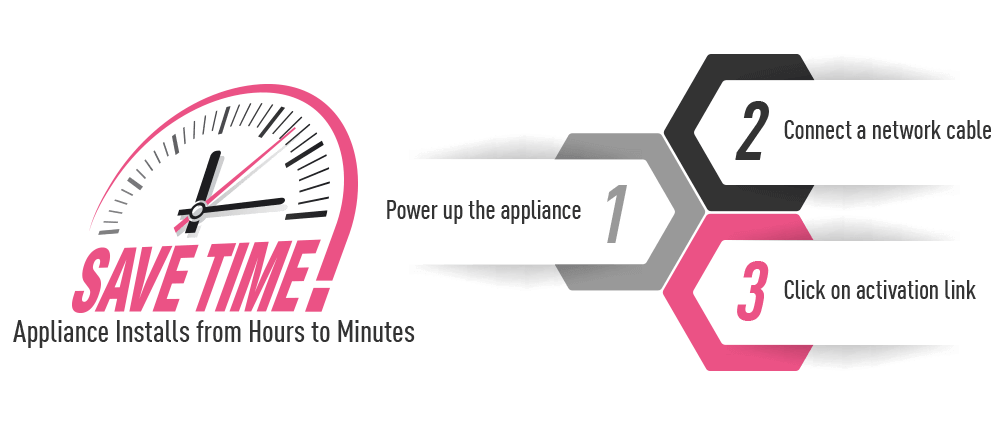 Sind Sie bereit, Next Generation Firewalls zu erleben?
Fragen Sie einen Experten