Umwandlung von Protokollen in Sicherheitslogik
• Überwachung und Schutz der Cloud-Sicherheit
• Vereinfachte Visualisierung des Netzwerkverkehrs
• Automatisierung und SIEM-Integration
• Umfassende Sicherheitsintelligenz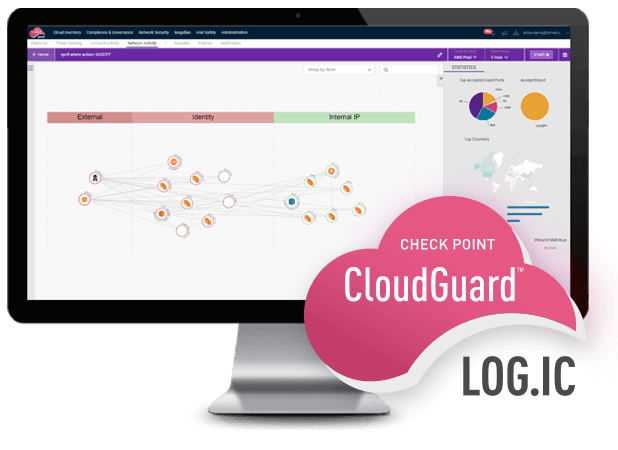 Advanced Multi - Cloud Security Monitoring and Analytics
Log.ic delivers advanced security intelligence, including cloud intrusion detection, network traffic visualization, and cloud security monitoring and analytics. Its object-mapping algorithms combine cloud inventory and configuration information with real-time data monitoring from a variety of sources from Amazon AWS, Microsoft Azure and Google Cloud native log, packet capture appliance, and alert tools.
The outcome is rich contextualized information, enhanced and simplified visualization, deep event correlation, querying, intrusion alerts and notifications of policy violation, enhancing Security Operation Centers (SOC) with relevant cloud security intelligence for faster and more efficient incident response.
Advanced Threat
Prevention
Detect anomalies, alert and quarantine threats, while utilizing cloud security analytics and the world's largest threat intelligence feed and encryption.

Unparalleled Data
protection
Real-time cloud security monitoring and protection, troubleshooting and security posture awareness for ephemeral assets from Amazon AWS, Google Cloud Platform (GCP), and Azure.
Cloud Security
Intelligence
Cloud security intelligence and security analytics, delivering enhanced cloud security processes and decisions with contextualized visualization, intuitive querying, intrusion alerts, and notifications of policy violations.
Protection from Public Cloud Threats
Detect threats and anomalies with Artificial Intelligence (AI), Alert and Quarantine Public Cloud Threats, and cloud security analytics.
Real-time intrusion detection and policy violation alerts based on user-defined criteria
Comprehensive investigation of security threats with cloud network security analytics, streaming the world's largest security intelligence database, ThreatCloud.
Continuous extended disaster recovery with CloudBots and advanced encryption
Agentless using cloud native API
Enhanced Cloud Security forensics and incident report with Big Data Security Solutions
CloudGuard Log.ic ingests cloud native log and event data, delivering contextualized visualization of entire public cloud infrastructure and cloud security analytics, helping to enhance:
Incident Response (Cloud Forensics): Alerts on network activity and account behaviors
Network Troubleshooting: Real-time configuration and traffic monitoring in the VPC and VNET, including ephemeral services and cloud-native platform components from Amazon AWS, Microsoft Azure, and Google Cloud Platform.
Compliance: Instant notifications on regulatory violations and ace audits
Threat Hunting Processes: Leverage security intelligence and predictive cloud security analytics to advancing cybersecurity threat hunting processes.
Superior Automation and SIEM Integration
Advanced cloud security monitoring automation and Event Management (SIEM), for critical insights and integration of cybersecurity tools, and robust and seamless defense.
Precise and smooth integration with third party SIEM solutions
Comprehensive visibility of contextualized logs into ephemeral assets and security posture awareness
CloudGuard Log.ic firehose connection feeding critical insights to SIEM solutions for further investigation.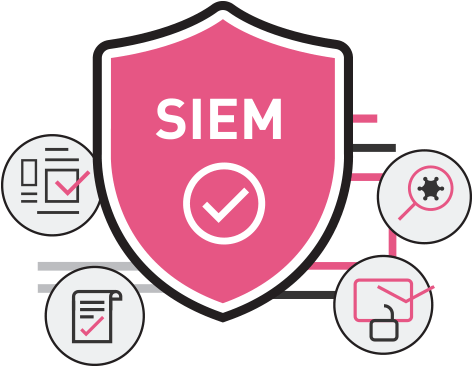 Seamless SIEM Integration
Integrating IT and security technologies with CloudGuard Log.ic is easy, fast, and flexible. CloudGuard Log.ic includes out-of-the-box integrations with leading SIEM vendors:
Ready to experience CloudGuard Log.ic?