Endpoint Protection
e Threat Prevention
Le reti senza frontiere di oggi stanno ridefinendo la protezione endpoint. Con una varietà di endpoint che accedono liberamente alle reti, questi memorizzano dati aziendali sensibili. Poiché il 70% delle violazioni dei dati che hanno successo inizia sugli endpoint,1 un approccio preventivo alla sicurezza degli endpoint può aiutare a fermare gli attacchi informatici. SandBlast Agent è la soluzione avanzata di protezione degli endpoint e di prevenzione dalle minacce per proteggere la tua organizzazione.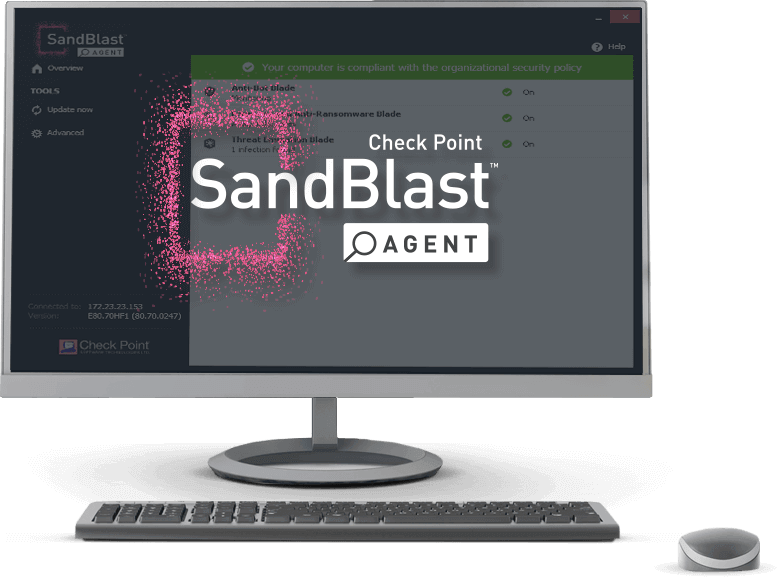 Webinar: "Endpoints at the Edge: The Stakes are Rising
Tecnologie Innovative di Threat Prevention
Uses static, dynamic, and behavioral detection and prevention technologies with advanced artificial intelligence to provide high catch rates and low false positives
Rilevazione e Risposta Perspicaci
Assures continuous collection of comprehensive and complete raw forensics data, employing full attack remediation capabilities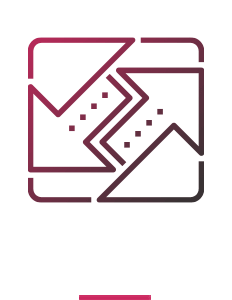 Soluzione di Sicurezza Completa degli Endpoint
Integrates into Check Point Infinity to get maximum prevention across all attack surfaces, shared intelligence, and a single point of management (cloud service or on premise)
La ricerca Forrester nomina Check Point un leader nelle Suite di Endpoint Security
Vantaggi Chiave del Prodotto
Capacità di endpoint avanzate per la protezione da attacchi cyber noti e sconosciuti
Le migliori pratiche del settore aumentano la sicurezza degli endpoint per combattere attacchi mirati ed evasivi
Elevati tassi di cattura e bassi falsi positivi assicurano una sicurezza efficiente ed una prevenzione efficace
L'analisi automatica dei dati forensi offre approfondimenti dettagliati sulle minacce
Contenimento completo degli attacchi e ripristino rapido di tutti i sistemi infetti
Caratteristiche di SandBlast Agent
SandBlast Agent è una soluzione completa di sicurezza endpoint che offre una flotta di funzionalità avanzate per la prevenzione dalle minacce endpoint, in modo da poter navigare in tutta sicurezza nell'odierno panorama di minacce malevoli.
Fornisce un sistema completo per prevenire, rilevare e porre rimedio in modo proattivo agli attacchi malware evasivi.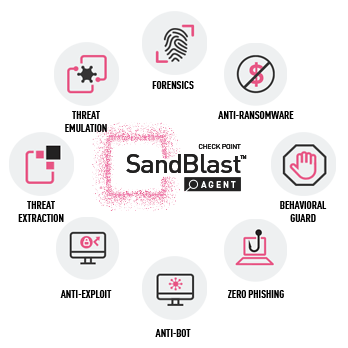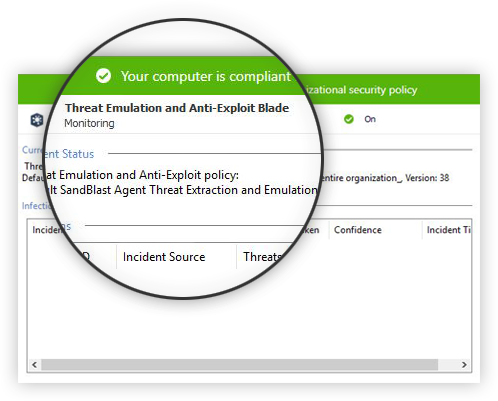 Threat Emulation
Evasion-resistant sandbox technology detects malicious behavior and prevents potential attacks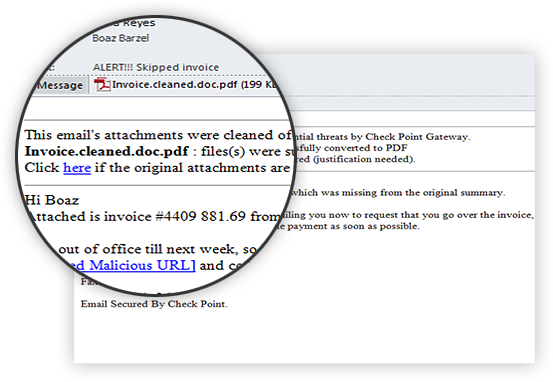 Threat Extraction
Reconstructs downloaded files, delivering clean, risk-free files to users in real time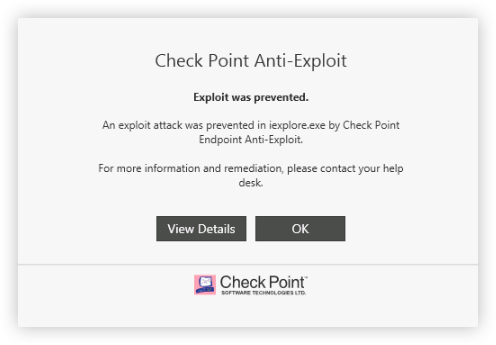 Anti-Exploit
Protects and prevents vulnerable applications and systems from exploit attacks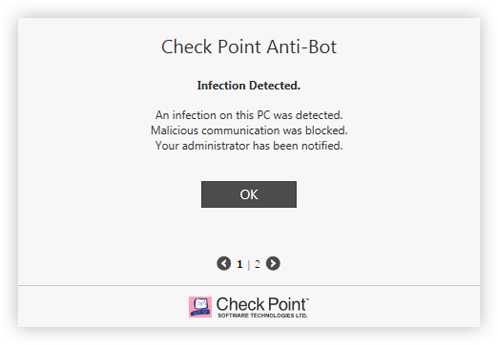 Anti-Bot
Detects, contains, and remediates infected hosts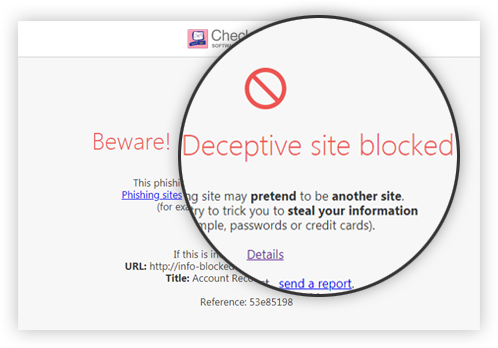 Zero-Phishing
Blocks deceptive phishing sites and alerts on password reuse in real time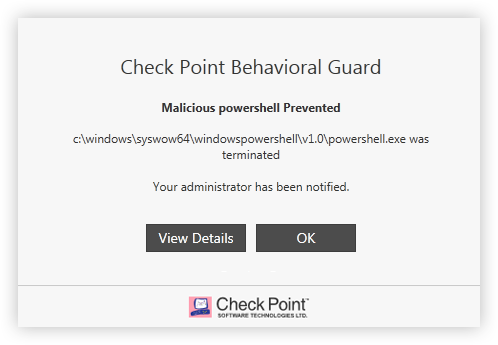 Behavioral Guard
Prevents, detects, and remediates even the most evasive attacks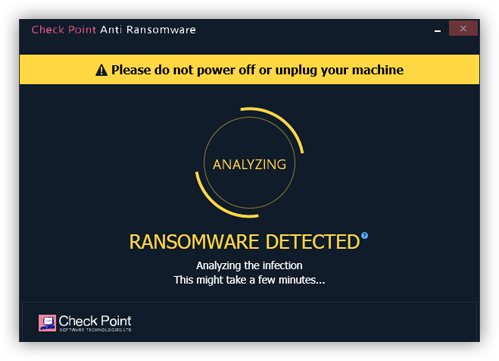 Anti-Ransomware
Detects and quarantines the most evasive ransomware variants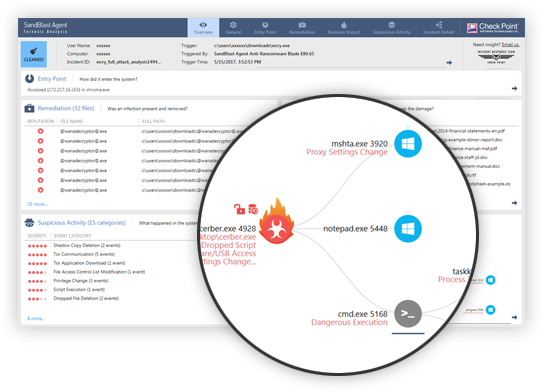 Forensics
Records and analyzes all endpoint events to provide actionable attack forensic report
Caratteristiche Aggiuntive
Cloud Management or On-premise
SandBlast Agent offers unified, scalable, and granular management available as a cloud service or installed on your premise.
Unified – Manage all your endpoint security needs from a single console
Scalable – Use one management infrastructure to manage your endpoints, from a few to hundreds of thousand devices
Granular – Choose the management granularity that fits your needs. Relay product best practices based on defaults; go deeper by configuring everything on your system, or anywhere in between


SandBlast Agent cloud management service is fully deployed,maintained, and optimized by Check Point enabling rapid deployment, elastic growth, constant server updates and location independent.
Opzioni e Specifiche di SandBlast Agent
Features

Data
Protection

Basic

Advanced

Complete

Unified Endpoint Security
Advanced

Unified Endpoint Security
Complete

Deployment
Agent

✓

✓

✓

✓

✓

✓

Browser Extension

✓

✓

✓

✓

✓

Mobile App

✓

✓

Reduce Attack Surface
Endpoint Firewall

✓

✓

✓

✓

✓

✓

Application Control

✓

✓

✓

✓

✓

Endpoint Compliance

✓

✓

✓

✓

✓

✓

Port Protection (Peripheral control)

✓

✓

✓

✓

✓

✓

Remote Access VPN

✓

✓

✓

✓

✓

✓

Data Protection: Full disk and removable storage encryption

✓

✓

✓

Prevent Attacks Before They Run
Endpoint Anti-Virus: Known signatures, heuristics

✓

✓

✓

✓

✓

Static Analysis: Machine learning-based prevention

✓

✓

✓

✓

✓

Anti-Exploit

✓

✓

✓

✓

✓

Zero-Phishing: Anti-phishing, credentials reuse prevention

✓

✓

✓

✓

✓

Threat Emulation (SandBox)

✓

✓

✓

✓

Threat Extraction (Document sanitization)

✓

✓

✓

✓

Runtime Detection and Protection
Anti-Ransomware

✓

✓

✓

✓

✓

Behavioral Guard: Mutations of known malware, generic unknown malware

✓

✓

✓

✓

✓

Behavioral Guard: File-less attacks

✓

✓

✓

✓

✓

Anti-Bot: Malicious Command and Control (C&C) traffic detection

✓

✓

✓

✓

✓

Anti-Evasion: Evasion techniques detection

✓

✓

✓

✓

✓

Contain and Remediate
Block traffic to Command and Control (C&C) servers

✓

✓

✓

✓

✓

Lateral movement prevention and infected machine isolation

✓

✓

✓

✓

✓

Process termination and file quarantine

✓

✓

✓

✓

✓

Encrypted file restoration

✓

✓

✓

✓

✓

Full attack chain sterilization

✓

✓

✓

✓

✓

Attack Investigation and Response (EDR)
Forensics collection

✓

✓

✓

✓

✓

Automated event forensics analysis report

✓

✓

✓

✓

✓

Threat hunting

✓

✓

✓

✓

✓

Multi-surface attack immunization (IoC and IoA sharing)

✓

✓

✓

✓

✓

Cloud Management

✓

✓

✓

✓

✓

✓

SandBlast Mobile (iOS and Android threat prevention)

✓

✓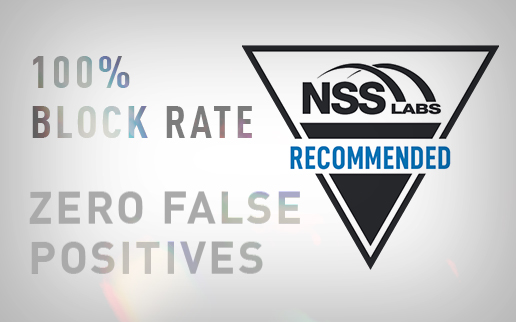 SandBlast Agent guadagna lo stato "Recommended" dell'NSS
Questo segna la nostra 18° classificazione come Recommended da parte dell'NSS dal 2010.
Evidenze del Test AEP – Advanced Endpoint Protection:
100% tasso di blocco HTTP
100% tasso di blocco E-mail
100% tasso di blocco di minacce offline
100% tasso di blocco di evasioni
0% Falsi positivi
Per saperne di più sulla nostra Advanced Endpoint Threat Prevention
Infrastruttura di Sicurezza Unificata
SandBlast Agent è un prodotto chiave di Check Point Infinity, un'architettura di sicurezza informatica completamente consolidata che fornisce una protezione senza precedenti contro i mega attacchi informatici Gen V su rete, endpoint, cloud e dispositivi mobili. L'architettura è stata progettata per risolvere le complessità della crescente connettività e della sicurezza inefficiente.
 
Inizia oggi stesso il tuo proof-of-concept di SandBlast Agent.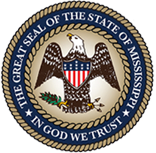 "L'anti-ransomware blade è un pezzo di tecnologia straordinaria. Non solo ti protegge dai ransomware, ma non si affida alle firme per farlo. Questo significa che, anche se si perde la connessione internet, si è comunque protetti da varianti sconosciute".
-Russell Walker, Chief Technology Officer, Segretario di Stato del Mississippi.