Sicurezza di Rete Hyperscale Maestro di Check Point
Check Point Maestro introduces to the industry a new way to utilize current hardware investment and maximize appliance capacity in an easy-to-manage Hyperscale network security solution.
Con Maestro, le organizzazioni possono semplificare l'orchestrazione del loro flusso di lavoro e scalare i loro gateway di sicurezza Check Point esistenti su richiesta – allo stesso modo in cui possono creare nuovi server e calcolare le risorse nei cloud pubblici.
L'orchestrazione Maestro consente l'espansione da un unico gateway di orchestrazione Check Point alla capacità e all'esecuzione di 52 gateway in pochi minuti, offrendo alle aziende una flessibilità elastica e consentendo un'enorme velocità di transito di Terabit/secondo del firewall.

La Sicurezza di Hyperscale
Espansione su richiesta disponibile per gateway di tutte le dimensioni

Opening up new simple ways to architect and manage cyber security
Resilienza a livello Cloud
Fornire i più alti standard di orchestrazione di sicurezza e resilienza con tecnologie di livello Telco
Caratteristiche di Prodotto
Linear Scalability for Any Appliance
On demand expansion applicable to gateways of all sizes. Start large, become giant.
Scalability Has Never Been So Easy
Scale, as the business grows beyond any product in the industry with the Maestro Hyperscale Orchestrator.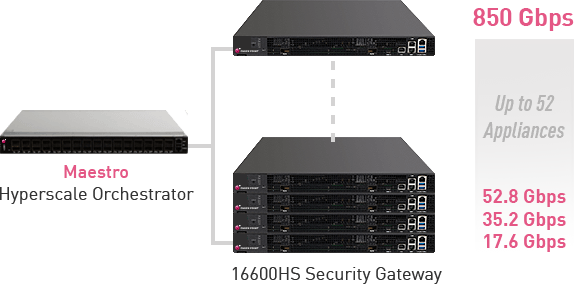 Check Point HyperSync
Maestro clustering provides full redundancy within a system. All hardware resources are utilized!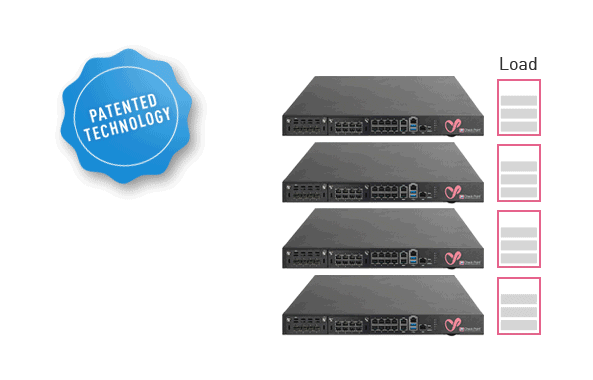 TRIPLICA le prestazioni facendo il Load Sharing
con True LINEAR SCALE
Due dispositivi = 1 Gbps
(1 + 1 = 1)
Tre Dispositivi = 3 Gbps
(1 + 1 + 1 = 3)