Become a SMB Partner and Seize the Opportunity
Small and midsized businesses (SMBs) are a very vulnerable cybersecurity target. As a partner, the opportunity is phenomenal. Check Point is making it as easy as possible for new partners to ramp up and increase quickly their revenues.
Why You Should Sell Check Point SMB Bundles

A Unique Market
Opportunity
SMBs are highly unprotected when it comes to cyberattacks. It's time for you to seize the opportunity
Our SMB Cybersecurity solutions are easy to install, deploy, manage and they come with auto-generated policies delivering advanced threat prevention

Easy Onboarding
For Partners
To sell our SMB Products, no training is required. You want to get extra benefits from Check Point and broaden your expertise? Discover our SMB Ambassador Program
Unlike Larger Enterprises, SMBs are Highly
Undefended When It Comes to Cyberattacks
They have less sophisticated security infrastructure and practices
Very few have a separate security function, resulting in the difficulty to coordinate resources
SMBs have embraced cloud, mobile and SaaS technologies, ultimately increasing their exposure to hackers
25% of SMBs feel they are well prepared for a
cyber-attack on their company.
How to Sell Check Point SMB Solutions?
No training is required to sell our solutions with the SMB Self-Starter Program.
View our video and see by yourself how easy it is to set up our appliances.

All you need to do to get started is to sign your first client!

Broaden your expertise with the SMB Ambassador Program and get more benefits.

Complete our one-day onsite 'SMB Partner' training and receive the following materials: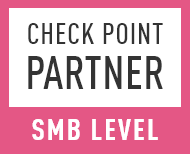 SMB Logo to be used on your website, social media and collateral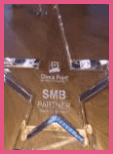 A SMB Reseller plaque to showcase in your office
Discover Check Point Next
Generation SMB solutions
The Paradigm: Zero Configuration But
The Most Advanced Cyber-Security Offering
Our SMB solutions offer "out-of-the-box security" with auto-generated policies:
Advanced threat prevention similar to the standards of large enterprise organizations
Prevention rather than detection
Zero Touch hands-off configuration & management
Automated reports
Easy delivery of security services via cloud security platforms
Explore Check Point's SMB Products