Comprehensive security and threat prevention
These all-in-one appliances include our Next-Generation Firewall, which gives branch offices the same level of sophistication and protection as those designed for the corporate network. And because the 1100 Appliances leverage the flexible Software Blade Architecture, you can customize your device to deliver a rich set of advanced security functionality.
Flexible network connections with high capacity
At the branch office, you need all the flexibility you can get. That's why our 1100 Appliances come with a variety of connectivity options.
10 1Gbps Ethernet ports
Optional integrated ADSL modem
USB and PCI Express card slots for additional WAN connectivity or a redundant Internet link
Optional WiFi access point (802.11b/g/n) that supports WEP, WPA and WPA2 authentication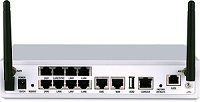 Simple configuration and deployment
We designed this appliance class to be as easy as possible to set up. Even non-technical staff can easily perform initial setup and configuration via a simple start-up wizard, and be up and ready in minutes.
Local and central management capabilities
We make it easy to administer your appliance, whether or not you have IT staff on hand at the remote location. A simple web-based local management interface allows administrators working on-site to secure a branch office in minutes. At the corporate headquarters, leverage central tools to define security policy for the entire network, including your 1100 Appliance. For the largest enterprises, we offer SmartProvisioning™, a profile-based management tool that lets you define a single security and device profile, and apply it simultaneously to thousands of 1100 Appliances.