Branch Cloud Security
:
Securely Connect your Branch
to the Cloud
Connecting branches directly to the cloud significantly increases security risks. Branches need branch cloud security to protect themselves against sophisticated Gen V cyber attacks.
Check Point CloudGuard Connect transforms branch cloud security by delivering enterprise grade security to branches as a cloud service, with top-rated threat prevention, quick and easy deployment, and unified management saving up to 40% in OpEx.
Cloud Network Security as a Service
Transforms Branch Cloud Security with Top-Rated Threat Prevention, Easy
Deployment, and a Unified Threat Management platform to reduce operational
expenses up to 40%.
Top-rated threat prevention
with 100% cyber attack
catch rate
Five-minutes to protect
your SD-WAN on the
Cloud or On-Premise
Unified security architecture
reduces OpEx costs up to 40%
and CapEx by 20%
Advanced Threat Prevention
For Branch Offices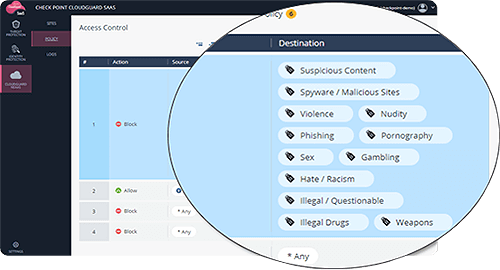 Prevent Zero-Day threats with Sandboxing
Enforce safe Internet use with Application Control and URL Filtering
Prevent bot access to Command and Control servers
Inspect encrypted HTTPS channels to prevent threats
Set policy for thousands of sites and monitor for threats in a single console
Elastic and Scalable Cloud-Native
Architecture
Ensure privacy with GRE or IPsec tunnels
Ensure connectivity with secure redundant communication links
APIs automate on-boarding new branch locations
Cloud-hosted, so there is no hardware to maintain
Completely transparent software and security updates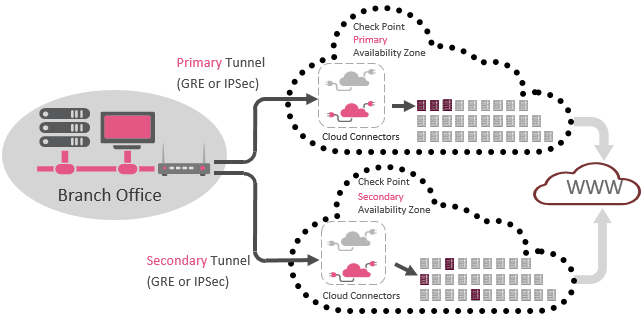 Seamless integration with SD-WAN partners
makes adding security easy!
Always Up to Date Branch Cloud Security for Branch Offices
Continuously up to date with the latest Threat
Prevention
Top-rated Threat Prevention
Protects from the latest Zero-Day and Gen V
cyber attacks
Leverages real-time Threat Intelligence
Connected threat ecosystem prevents threats
attacking networks, mobile users and cloud
applications
Unified with On-Premise R80 Data Center Management
Out of the box security profile and easy to use web based management
R80 integration enables central management of security policy across all locations
Unified view of threat landscape and security policy from one single console
Real-time updates on the latest Zero-Day and Gen V cyber attacks through ThreatCloud
Unified with Check Point Infinity reducing operational expenses up to 40%
Automated Orchestrations Enables Setup in 5 Minutes
Cloud native design provides elasticity and
Scalability
Secure, robust API automates branch office
security
Register once to set up a secure connection to
CloudGuard Connect
Use geo-location services to find a near-by site
Create redundant GRE or IPsec tunnels
Monitor site connection status
CloudGuard Connect with
Silver Peak
Automated Orchestrations enables setup in 5 minutes
Seamless integration to Silver Peak SD-WAN orchestrator enables transparent activation across all branches
Enable advanced threat prevention to secure the local Internet breakout
Learn More About Securing Your SD-WAN