Prevents zero-day attacks
Check Point SandBlast Agent extends the proven protections of SandBlast Zero-Day Protection to endpoint devices. By quickly inspecting files in a virtual sandbox, Threat Emulation discovers malicious behavior and prevents infection from new malware and targeted attacks. Threat Extraction reconstructs downloaded files, eliminating potential threats and promptly delivering a safe version to users.
Identifies and contains infections
With a local version of Anti-Bot security protection, continuously updated with the latest Threat Intelligence data via ThreatCloud, SandBlast Agent identifies and blocks bot communications with command and control servers to contain and quarantine any infected hosts.
Comprehensive coverage across threat vectors
SandBlast Agent secures endpoint devices from threats delivered via:
Web downloads
Content copied from removable storage devices
Links or attachments in email messages
Lateral movement of data and malware between systems on a network segment
Infections delivered via encrypted content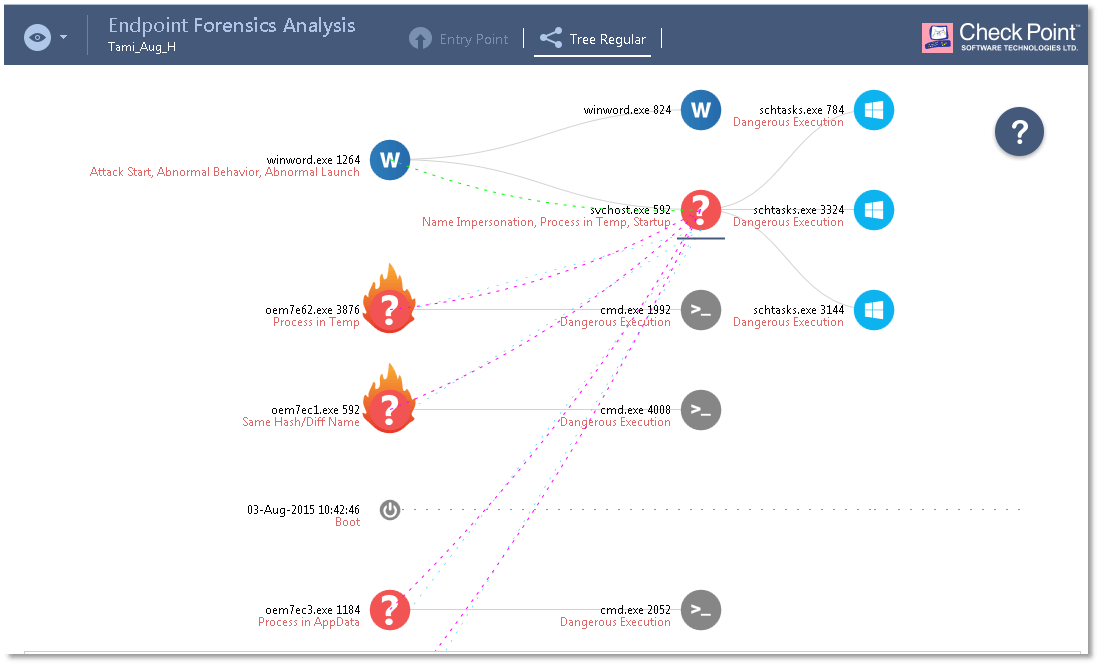 Full visibility of security events
The forensics capability within SandBlast Agent provides full visibility by monitoring and recording all endpoint events, including files affected, processes launched, system registry changes and network activity. SandBlast Agent is able to trace and report the steps taken by malware, including zero-day threats. Continuous monitoring by SandBlast Agent ensures that data is available after a completed attack, even those based on malware techniques that remove files and other indicators of compromise left on the system.
Detailed incident reports
The forensics capability within SandBlast Agent allows you to view event reports, triggered from the gateway or endpoint itself, from a central location using SmartEvent. Security Administrators can also generate reports for known malicious events, providing a detailed cyber kill chain analysis. These reports provide actionable incident analysis, accelerating the process of understanding the complete attack lifecycle, damage and attack vectors.
Actionable incident analysis
The forensics analysis process automatically starts when a malware event occurs. Using a combination of advanced algorithms and deep analysis of the raw forensic data, it builds a comprehensive incident summary. The summary provides key actionable attack information, including:
Malicious events – What evidence of suspicious behavior was detected throughout the attack lifecycle?
Entry point – How did the attack enter the network? What were the main elements used in the attack? How was the attack initiated?
Damage scope – What is the damage? What malicious and suspicious behavior has occurred within the system? What data has been stolen?
Infected hosts – Who else or what else is affected?
This comprehensive attack diagnostics and visibility supports remediation efforts. System administrators and incident response teams can swiftly and efficiently triage and resolve attacks, getting your organization back to business as usual quicker.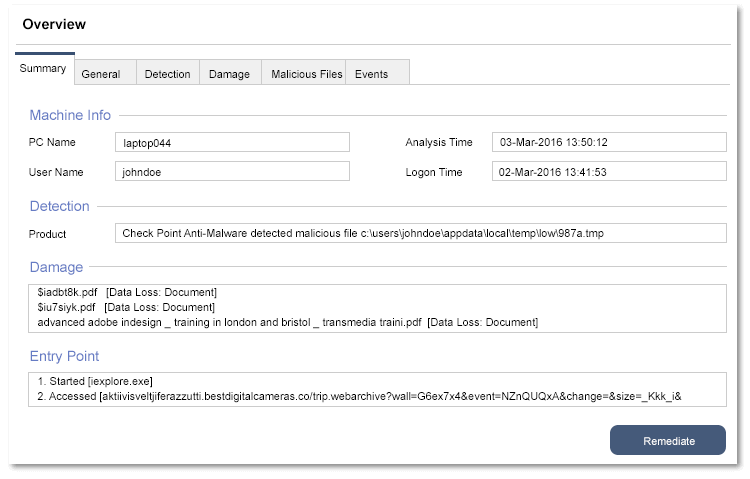 Third-party integration
SandBlast Agent works in conjunction with Antivirus and other security solutions from Check Point, as well as from other vendors. It enhances the detection capabilities of existing Antivirus products, enabling protection from advanced threats and providing actionable incident analysis.
When triggered by an event or investigation request by another Check Point component or third-party solution, endpoint forensics logs are analyzed to generate reports viewable in SmartEvent and SmartLog.
Easy to deploy and manage
SandBlast Agent can be quickly deployed and all policies are managed centrally through SmartCenter. Access to the event logs and incident reports is provided though SmartEvent and SmartLog, providing deep insight to understand even the most advanced attacks.
The non-intrusive, low-overhead deployment utilizes a SandBlast remote sandbox running as a service–on either the SandBlast Cloud or your own private appliances–resulting in minimal impact on local performance and full compatibility with installed applications.