Customize your security
Is there a real threat and what is the scope?
Next-Generation SmartEvent allows you to create custom dashboards to monitor only what is relevant to your organization. Widgets and chart templates optimize visual display, making security data easy to understand at a glance.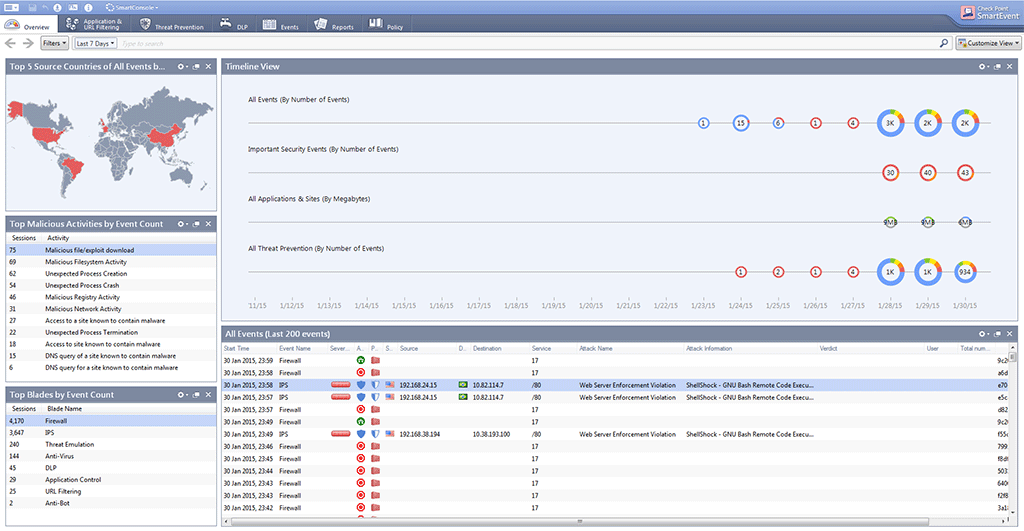 How do I stop it from happening again?
You can take advantage of predefined security events or customize them to prioritize events so automatic alerts are generated alerts for noteworthy, critical events.
Easily investigate events
Did that malware hit my network?
SmartEvent enables one-click exploration of security events. With one click, move from a high-level overview to specific details such as type of attack, timeline, application type and source. Free-text search allows you to enter specific search terms to retrieve results from millions of logs in seconds.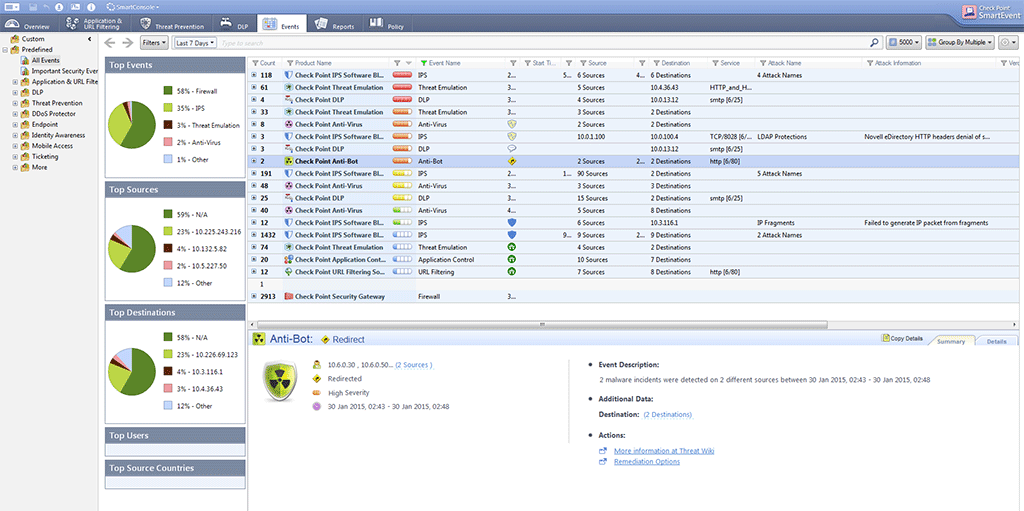 Respond and remediate on the spot
What do I do now to respond to that critical event?
With SmartEvent, once you have investigated an event, it's easy to act on it. Depending on the severity of the event, you can choose to ignore it, act on it later, or block it immediately. You can also easily toggle over to the rules associated with the event to refine your policy.
Comprehensive data correlation
SmartEvent correlates logs from all Check Point enforcement points, including end-points, to identify suspicious activity from the clutter. Rapid data analysis and custom event logs immediately alert administrators to anomalous behavior such as someone attempting to use the same credential in multiple geographies simultaneously.
Personalized reports
SmartEvent makes it easy to customize reports for the different stakeholders in your company. Your CISO might need an overview of high risk events in the last month, while your HR Manager might need to know where employees are going online.  With SmartEvent, your reports display only content that is relevant to each stakeholder.
Deploy quickly, monitor anywhere
With a large number of pre-defined, but easily customizable security events, you can have SmartEvent up and running and detecting threats in a matter of hours.
And, you can stay on top of security while on the go. The Next Generation SmartEvent web portal provides access to reports and dashboard data via mobile phones and tablet devices.