Full Disk Encryption
Our encryption software automatically encrypts all information on the hard drive—including user data, the operating system, temporary files and erased files, for maximum data protection. Logical partitions are boot-protected and encrypted sector-by-sector. Our encryption software blocks attempts to copy individual files or to introduce rogue programs are blocked, even when the hard drive is removed and slaved to a different computer.
Single-console, Intuitive User Interface
The Full Disk Encryption Endpoint Software Blade provides a convenient centralized management system for easy viewing of security status and for making basic configuration changes. Multiple client languages are supported for global deployments
Central Management
The Full Disk Encryption Software Blade is centrally managed by the Endpoint Policy Management Software Blade, enabling central policy administration, enforcement and logging from a single, user-friendly console. Centralized management offers unmatched leverage and control of security policies and multiple deployment options offer easy installation and minimize user impact, for a reduced overall cost of operations.
Pre-Boot Authentication
Using encryption software ensures that only authorized users are allowed to access the endpoint. All valid credentials must be provided before the operating system will boot. Multi-factor authentication options, such as certificate-based Smartcards and dynamic tokens, are supported. Multiple pre-boot authentication languages are supported for global deployments.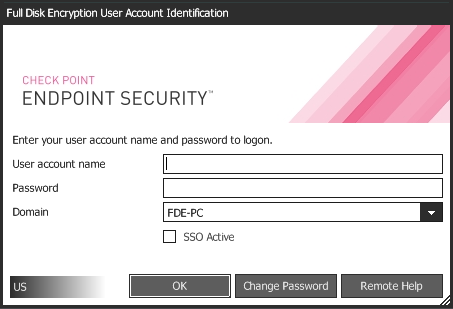 Secure Remote Help
Remote Password Change and One-Time Login remote help options are available for users who may have forgotten their passwords or lost access tokens. Web-based remote help options are available.
Integrated into Check Point Software Blade Architecture
The Full Disk Encryption Software Blade is integrated into the Software Blade Architecture. Endpoint Security Software Blades from Check Point bring unprecedented flexibility, control and efficiency to the management and deployment of endpoint security. Choose from a variety of Software Blades to deploy only the protection you need, with the freedom to increase security at any time from a single central management console.