Cyber Security Built for IoT
While connecting Internet-of-Things (IoT) devices to your corporate network delivers clear benefits, it also exposes you to new cyber-threats. From IP cameras, and smart elevators, to medical devices and industrial controllers, we secure every connected device and keep your network protected.
Tailored for Any IoT Environment
Most Comprehensive IoT Cyber Security Solution
Secure thousands of IoT device types and models across smart office, smart building, healthcare and industrial environments. Protect them from network-based and device-level attacks.
Expose all your IoT related risks
Auto-generate and enforce policies
Block known and zero-day attacks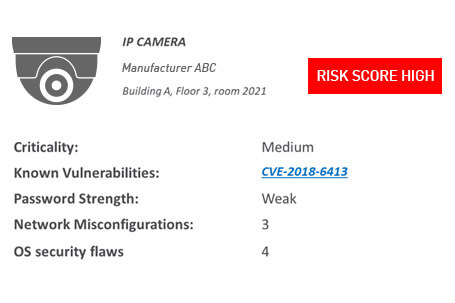 Assess all the risks associated with your devices in any given moment
Real-time risk analysis based on IoT discovery, firmware risk assessment and threat intelligence.
From a single console, view all your IoT devices classified based on their risk level. You can even drill down for a risk analysis per device.
Minimize your risk exposure with auto-generated policies
Save months of manual policy configurations and ensure your IoT devices are secure from the first moment they connect to the network.
Block unauthorized access to (and from) your IoT devices
Ensure devices use only communication protocols they were designed to use
Block Known and Zero-Day IoT Related Attacks
Automated activation of IoT security protections both for network-based and device-level attacks.
On-device Runtime
Self-Protection
Mitigate device level attacks before devices are compromised with the IoT Nano-Agents.
Protect vulnerable devices from known exploits, without the need to physically patch them. Over 300 prevention signatures against network-based IoT attacks.
IoT-specific Threat Intelligence
Stay ahead of the latest IoT threats with threat intelligence shared between 100 million endpoints, gateways and IoT devices worldwide.
Secure Any Connected Device to Ensure Patient Safety and Ongoing Healthcare Services
While connecting Internet-of-Things (IoT) devices to the clinical network delivers clear benefits for hospitals and clinics, it also exposes them to new cyber-threats.
From infusion pumps, patient monitors, and MRI machines to clinical refrigerators and even wheelchairs, our solution secure every device and protect the clinical network. All in a way that is easily scalable and non-disruptive to critical medical processes.
Ensure the Safety and Integrity of your Operational Technology Environment
The increasing connectivity of industrial control systems (ICS) and the convergence of OT and IT networks expands the attack surface of industrial manufacturing and critical infrastructure facilities.
From HMI and PLC to SCADA servers and sensors, our solution keeps valuable industrial assets secure, without disrupting critical processes.
The Largest Ecosystem of IoT Discovery
By integrating with a wide range of third party IoT discovery platforms, our solution supports 100,000+ device
profiles across different IoT environments.
Ready to Experience Check Point IoT Security Solution?