IoT Device Security for IoT Manufacturers
If you build IoT or OT devices, the expanding threat landscape requires you to secure your devices out of the box to protect your customers from cyber attacks.
From IP cameras, and smart elevators, to medical devices and industrial controllers, the IoT Protect Device provides IoT and OT devices with built-in run-time security against zero-day cyber attacks.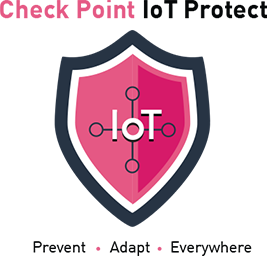 Check Point IoT Protect Device
Revolutionary on-device runtime protection enables you to develop connected
Internet of Things (IoT) and OT devices with built-in-security.

Uncover security risks in your
IoT firmware
Harden device with on-device runtime protection to prevent zero-day attacks
Define and enforce policies per device for ongoing network access
Introducing Check Point IoT Protect for Enterprise, Healthcare and Industrial
Check Point IoT Protect prevents IoT cyber attacks, adapting protections to any IoT or OT device across smart-office, smart-building, medical and industrial environments.
Delivering zero-trust policy tailored per device, Check Point IoT Protect uses:
Real time threat intelligence
60 innovative security services
On-device runtime protection to deliver a complete, end-to-end prevention-first strategy for an ever-evolving cyberphysical world
Manage IoT Devices with Device-Level Enforcement
Protect vulnerable devices
Virtually patch devices using signatures against known IoT and OT CVEs
Control access
Define policies at the device level
Control IoT network communications to and from the device
Intuitive object-based policy management
Monitor
Full reporting, logging and alerting
Unified console for IT and IoT management
Ready to Experience Check Point IoT Security Solution?