Mobile Security: Robust, Agile & Transparent
In the new normal, while employees are increasingly accessing corporate data from their smartphones, your business is exposed to breaches more than ever.
Harmony Mobile* delivers complete protection for your mobile workforce that is simple to deploy, manage and scale.
* Formerly known as SandBlast Mobile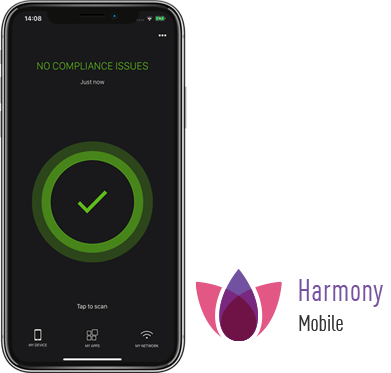 Mobile Security Report 2021
Insights on emerging mobile threats
Mobile Security is a Top Concern for Every Company These Days - and for a Good Reason
Over the past few months, researchers at Check Point have been observing a rise in the number of mobile-related attacks as well as entirely new attack methods such as sophisticated mobile ransomware, and MDMs getting weaponized to attack organizations.
Securing mobile devices across all attack vectors: apps, network and OS
Prevents malware from infiltrating employees' devices by detecting and blocking the download of malicious apps in real-time.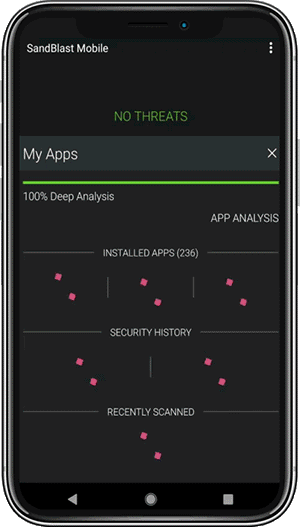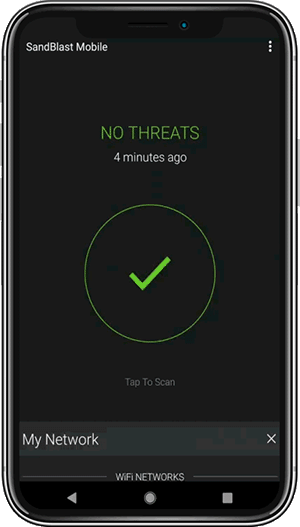 By extending Check Point's industry-leading network security technologies to mobile devices, Harmony Mobile offers a broad range of network security capabilities:
Anti-Phishing with Zero-Phishing
Safe Browsing
Conditional Access
Anti-Bot
URL Filtering
Protected DNS
Wi-Fi Network Security
Operating System & Device Protection
Ensures devices are not exposed to compromise with real-time risk assessments detecting attacks, vulnerabilities, configuration changes, and advanced rooting and jailbreaking.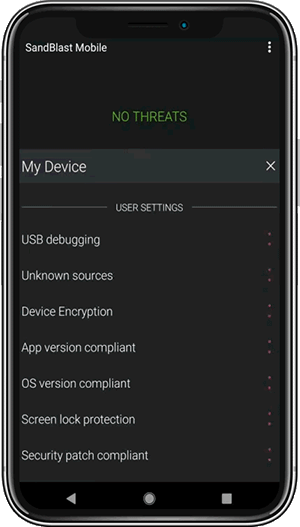 Harmony Mobile Named a Leader in Mobile Threat Management in the 2020 IDC MarketScape
Learn what capabilities earned us leader status
for the third consecutive time
Scalable and easy-to-manage security for any type of mobile workforce
Full Threat Visibility
Zero-Touch Deployment
Agile & Scalable
Harmony Mobile provides out-of-the-box integration with the largest technology ecosystem on the market
MDMs/UEMs, Intelligence alliances, SIEM, logging & reporting tools and more
Quick user adoption with zero impact on user experience or privacy

Privacy by design
User and corporate data kept completely private; no personal information, files, browser history, or app data is collected or analyzed at any point.

Elegant User Experience
Zero impact on device usability and browsing experience. The on-device app performs without draining battery life or data consumption

User Education
Employees become increasingly aware of mobile security risks with detailed threat real-time notifications and weekly summaries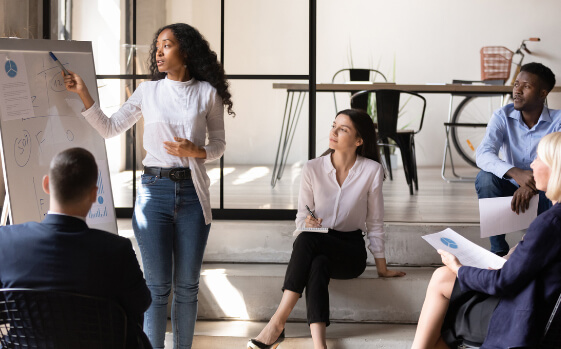 Harmony Mobile, strengthening mobile security and protecting against hidden threats
"Harmony Mobile prevents malicious apps and has excellent accuracy by using advanced static code analysis and machine learning. It also offers the kind of flexibility we need for fast deployment, easy scaling, and efficient operation. It really is a perfect fit for our business."
– Hiromi Toyama, President, iVRESS
Harmony Mobile
Special Offer
Check Point Research team has found over 400 vulnerabilities in one of Qualcomm Technologies' most-used DSP chips.  This chip is embedded into over 40% of the mobile phone market, including high-end phones from Google, Samsung, LG, Xiaomi, OnePlus, and more.
Harmony Mobile is the only solution that can defend against this threat.
Sign up today and get 50 complimentary licenses to keep your executives' phones secure and your corporate data protected.
Harmony App Protect Secures Apps
Harmony App Protect provides mobile security as a standard development tool. Now businesses can ensure that app security is expertly implemented and maintained, so developers can release new features without becoming security experts. Harmony App Protect:
Provides state-of-the-art mobile security as an SDK
Adapts security protections to the evolving mobile threat landscape
Enables fraud prevention and compliance with regulations, such as PSD2
Versatile Security Protection --Like A Swiss Army Knife For Security
Checkpoint Next Generation Firewall proves to be a great solution for our small business infrastructure. R80 Security Management has allowed our company to easily (and significantly) improve our protections over time.
read more >
CheckPoint Next Gen FW, The Best Way To Protect A Corporation Against The Latest Threats
Our experience with CheckPoint has been very satisfactory for the advanced security approach, being able to provide our corporation with the latest generation security mechanisms and being able to have maximum control and visibility of our perimeter security.
read more >
Apple In The World Of Firewalls
The Check Point Next Generation Firewall is like Apple in the world of Firewall and Security. It is an old, but still modern and competitive solution, and Check Point is always on the edge of security technologies.
read more >
A Cyber Pandemic Will Happen.
Learn how to Protect Your Organization.