Next Generation Firewall (NGFW)
Check Point's Next Generation Firewalls (NGFW's) are trusted by customers for their highest security effectiveness and their ability to keep organizations protected from sophisticated fifth generation cyber-attacks. Offered via the Check Point Infinity architecture, Check Point's NGFW includes 23 Firewall models optimized for running all threat prevention technologies simultaneously, including full SSL traffic inspection, without compromising on security or performance.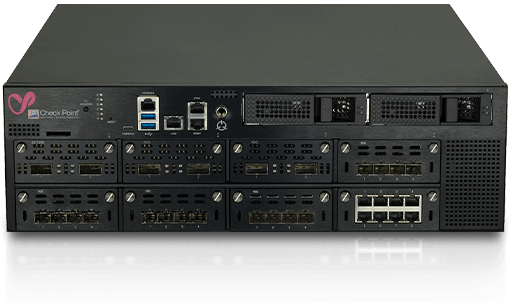 Application Inspection
and Control
Supports security policies to identify, allow, block or limit usage by leveraging the world's largest application library with more than 8,000 web 2.0 applications
Physical, virtual, public or private, Check Point's NGFW provides consistent security across your entire infrastructure
Advanced
Threat Prevention
Best-in-class threat prevention across our firewalls keeping business everywhere protected from the latest large scale, multi-vector Gen V attacks
Our Next Generation Firewall is More Than Just a Firewall

HIGHEST SECURITY PERFORMANCE AND THROUGHPUT
A Leader in the 2019 Gartner Enterprise
Network Firewall (NFW) MQ
The most advanced threat prevention,

SandBlast, continues to innovate and enhance anti-ransomware and CPU level emulation capabilities, improving performance, prevention and protection against zero-day exploits

Completeness of security vision,

protecting small to midsize enterprises against even the most sophisticated attacks with a comprehensive product portfolio including Next Generation Firewalls and a focused SMB strategy providing multiple UTM models supporting Internet, VDSL and 4G/LTE interfaces with built-in routing capabilities to the enterprise

Largest offering of security solutions,

covering network, cloud, mobile and endpoints. Check Point security gateways features include granular network based DLP with over 700 premade data types for Web, FTP, and Email traffic

Top tier security management, R80.10,

features centralized management control across all networks and cloud environments, increasing operational efficiency and lowering the complexity of managing your security
Check Point Has Highest Security Effectiveness
Check Point achieved the highest security effectiveness score in the 2019 NSS Labs Breach Prevention Systems (BPS) group test. Check Point's Next Generation Firewalls and Advanced Endpoint Security achieved a 100% block rate, and earned a "Recommended" rating. Highlights of Check Point's results:
98.4% overall security effectiveness
100% block rate
100% malware prevention, email and web
100% exploit resistance
0% false positives
Complete Security Technologies
Security Technologies for Gateways
| | |
| --- | --- |
| | Cyber Security: Gateways and Management |
Control Southern Engineers Cyber Protection Across All Fronts with Check Point
What we've been able to secure with Check Point Infinity is fantastic. It's the best cyber security architecture and protection I've ever worked with, hands down.
— David Severcool, Manager, IT Infrastructure and Security, Control Southern
Optimal Media Protects Digital Assets with
Check Point Infinity
The integrated Check Point solution has increased our cyber security level and saved us around four hours' work per week.
— Christoph Andreas, IT Systems & Support Team Leader, Optimal Media
Ready to Experience Next Generation Firewalls?