Transforming Logs into Security Logic
•
Enhanced Visibility
•
Cloud Forensics
•
Automation and SIEM Integration
•
Advanced Analytics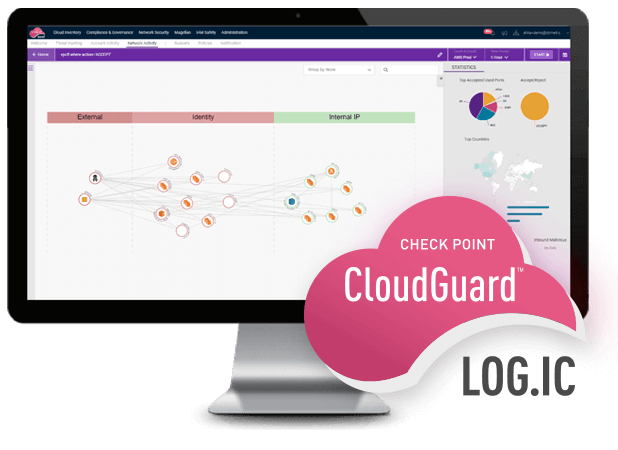 Native Threat Protection and Security Analytics
for the Public Cloud
Analyzing cloud data is difficult, especially due to the growing use of ephemeral assets and the resources gap for Security Operation Centers (SOC).


CloudGuard Log.ic enriches your cloud logs with context, transforming them into actionable security logic.


Whether you need to natively detect and prevent threats, enhance incident response processes, or enrich your SIEM – CloudGuard Log.ic secures all cloud assets; alerting anomalies, remediating threats at once, and providing context-rich visualization of your public cloud infrastructure.
Bullseye
Threat Prevention
Detect cloud anomalies to remediate at once, and quarantine threats utilizing the world's largest threat intelligence feed.
Security for All
Cloud Assets
See every data flow and audit trail in today's elastic cloud environments. CloudGuard Log.ic provides full visibility and security posture awareness for ephemeral assets like: AWS Lambda, NAT Gateways, and load balancers.
Context-Rich
Visualization
Expedite security teams' process with fascinating visualization, intuitive querying, intrusion alerts, and notifications of policy violations.
Alert and Quarantine Public Cloud Threats
Detect and prevent cloud anomalies using AI, alert and quarantine threats with Check Point's Threat Cloud
Get real-time intrusion detection and policy violation alerts based on user-defined criteria
Identify more threats, streaming the world's largest cyber intelligence database, Threat Cloud
Extend remediation capabilities indefinitely with CloudBots technology


Expedite Cloud Security Processes with
Big Data Analytics
CloudGuard Log.ic puts cloud security in context. Utilizing its top-bottom context-rich visualization for public cloud infrastructures, security teams can easily fire:
Incident Response (Cloud Forensics): Get alerts on specific network activity or account behavior
Network Troubleshooting: Easily analyze configurations and traffic of cloud entities in your VPC including ephemeral services such as Lambda functions
Compliance: Get notifications on regulatory violations and ace audits
Threat Hunting Processes: Leverage pattern-based analytics to kick-start threat hunting processes
Enrich Your SIEM to See the Cloud
Designed for elastic cloud environments, CloudGuard Log.ic's Firehose connector feeds critical insights to SIEM solutions for further investigation.
Pipe into 3rd party SIEM solutions anywhere
Deliver logs enriched with visibility into ephemeral assets and security posture awareness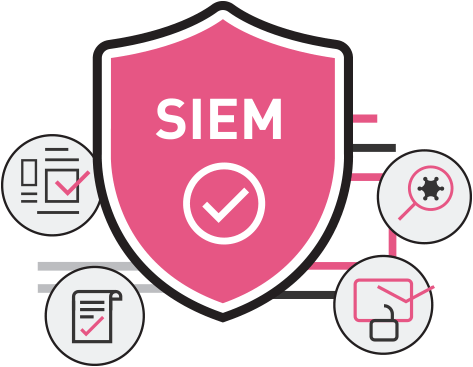 Integrating IT & Security technologies with CloudGuard Log.ic is easy, fast and flexible. CloudGuard Log.ic includes "out-of-the-box" integrations with leading SIEM vendors:
Ready to Experience CloudGuard Log.ic?