Cloud Security Intelligence
Accelerate Intrusion Detection and Enhance Threat Investigation in the Public Cloud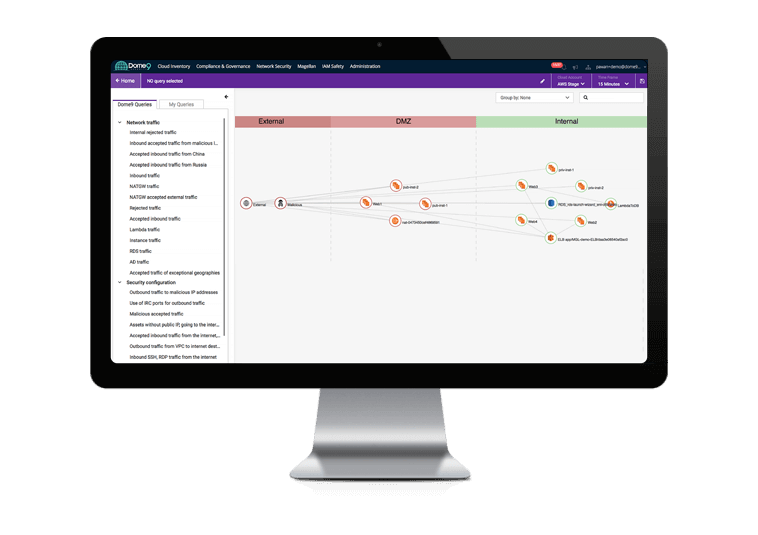 Cloud Security Intelligence, Magellan, is a cloud-native security intelligence technology that delivers cloud intrusion detection, network traffic visualization and user activity analytics. Magellan's object-mapping algorithms combine cloud inventory and configuration information with real-time monitoring data from a variety of sources including VPC Flow Logs, CloudTrail, as well as current threat intel feeds, IP reputation and geo databases.

Magellan Explorer is an interactive visual tool that lets you proactively explore your cloud environment and identify malicious activity quickly. This is based on powerful visualization of enriched VPCFL and Cloudtrail information that help SOC teams easily conduct threat hunting activities.
Using Magellan, SOC teams can detect threats and suspicious activities early based on network and account activity. Security admins can also find the needle in the haystack by creating custom queries to be alerted on specific network activity or account behavior.


Magellan alerts can be triggered to notify security teams immediately when configuration or network traffic violates regulatory and compliance standards (PCI, NIST, GDPR etc). Replay of traffic flow over a specific time period can also be used as proof of compliance to auditors (Control effectiveness)
Security Architecture Review and Network Troubleshooting
Dome9 provides a one-stop-shop for your security review and traffic troubleshooting. Magellan and Clarity can be used together to perform a configuration and traffic analysis of cloud entities in your VPC including ephemeral services such as Lambda functions.

Ready to Experience CloudGuard Dome9?