CloudGuard SaaS
for SaaS Security
The cloud improves efficiency, both for your business and for those trying to attack it. Cloud Access Security Broker (CASB) solutions provide limited protection.
Check Point CloudGuard SaaS protects enterprise data by preventing targeted attacks on SaaS applications and cloud-based email.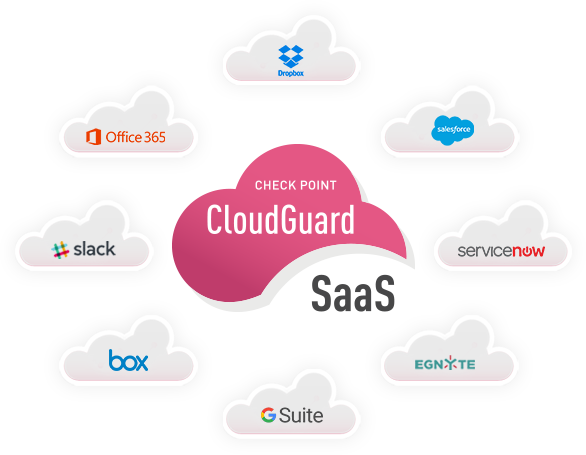 'Most Effective'
Breach Prevention
Protect Office365 & G-Suite attachments, as well as shared files and downloads on Box, OneDrive, and more. CloudGuard SaaS provides the industry's leading block rate for malware and zero-days (NSS Labs)
Rock Solid
Identity Protection
Eliminate the primary SaaS threat: account takeovers. From SaaS behaviors and configurations, to logins from compromised devices, CloudGuard SaaS detects unauthorized access, using transparent, strong authentication to block account hijacks
Superior Phishing
Catch-Rate
Stop clever phishing attacks and email spoofing. CloudGuard SaaS AI engines analyze hundreds of indicators like language and email meta-data to block more phishing techniques than any other solution or CASB
More Than Just a Cloud Access Security Broker (CASB)
Cloud Access Security Broker solutions (CASBs) initially emerged to allow visibility into cloud data and unsanctioned SaaS applications in use. This is no longer enough – visibility does not guarantee security.
CloudGuard SaaS is a cloud service tailored for real SaaS threats. More than just a Cloud Access Security Broker (CASB), it blocks attacks intended to steal data on SaaS applications and cloud email. It provides complete protection against malware and zero-days, sophisticated phishing attacks, and hijacking of employee SaaS accounts. Users also gain instant threat visibility and data control and protection.
Zero-Day Threat Protection
Phishing Protection
Identity Protection
Data Leakage Prevention
SaaS Shadow IT Discovery
Intuitive Cloud Management
Prevent the Takeover of Employee SaaS Accounts
Check Point research shows that 90% of data breaches on SaaS applications occur from targeted attacks. 50% of these breaches occur from SaaS account takeover.
CloudGuard SaaS prevents more account takeovers by correlating multiple threat indicators. It identifies malicious user activity and configurations and blocks unauthorized user access even from compromised devices.
Catch More Phishing
Attacks on Office365
and Gmail
CloudGuard SaaS uses artificial intelligence to detect malicious content on SaaS email accounts and block sophisticated phishing techniques that bypass traditional CASB and email security solutions.
"We've been using Office365 Outlook and OneDrive within our organization and have been looking for a comprehensive solution to secure them. CloudGuard SaaS has blocked numerous attacks on our applications, including account takeover, phishing and ransomware attacks."
-Amir Shay, Security Officier, Neopharm Group
Ready to Experience CloudGuard SaaS?