CloudGuard Container Security
Check Point CloudGuard provides centralized visibility into containerized environments with continuous compliance and runtime protection.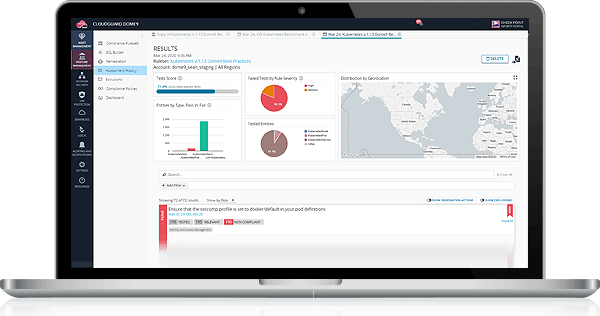 Provides dynamic threat prevention and leverages behavioral analysis to assess container security requirements
Continuously scans assets and automates container security to ensure threat prevention and compliance
Build security capabilities into CI/CD prior to deployment. Provides guardrails to remediate risks
Active Container Security
Container adoption is on the rise and requires a shift in how we approach security. The first step towards container security is gaining visibility into the deployment itself. Next, it is critical to embed security and compliance guidelines into development. CloudGuard provides a single console view of all container assets across all cloud environments (GCP, AWS, Azure, On-Prem, OpenShift, etc). Using CloudGuard Dome9, you can ensure container configurations are in compliance with known baselines such as CIS, Kubernetes security benchmarks, or NIST 800-190. In addition, security and compliance configurations can be built into CI/CD to automate container security during development. In run-time, CloudGuard Workload actively protects the container assets using dynamic protection based on customized rules, behavioral analysis, as well as other threat intelligence models–automating protection and remediation.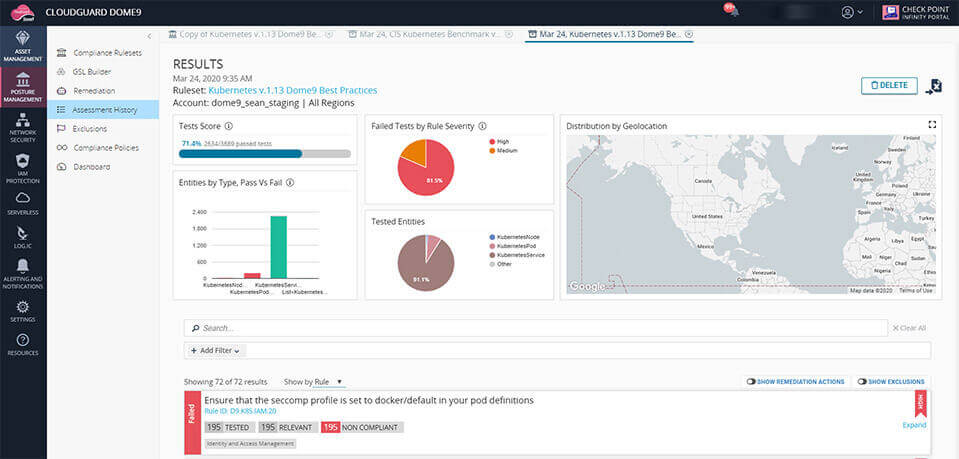 Container Security Advantages
Continuous cloud security posture management and compliance assessments for Kubernetes clusters.
Automatic vulnerability scanning of container architecture, searching for misconfigurations and security threats.
Dynamic, active, protection of container workloads based on compliance regulations, customized rules and exceptions with auto-remediation.
Centralized visibility and visualization of complete container inventory with reporting capability.
Customized policy rule sets and exceptions for container assets.

"We leverage Dome9 to protect our growing and distributed cloud based file storage environment. Dome9 provides us improved access controls through on-demand dynamic access leasing and improved security and compliance through detailed auditing and alerting."
-Manny Landron, Senior Manager, Security and Compliance, Citrix
CloudGuard delivers automated security, compliance and governance for AWS container environments. This solution provides real-time oversight, policy enforcement, and auto-remediation. Compliance and security teams benefit from centralized visibility and active protection, along with continuous compliance and security posture management.
CloudGuard provides both security and compliance orchestration for Kubernetes clusters. With customized rules and compliance policies, CloudGuard automates security and ensures compliance with industry standards.
Ready to Automate Container Security?