The Checkpoint CloudGuard platform is a comprehensive solution to improve Azure security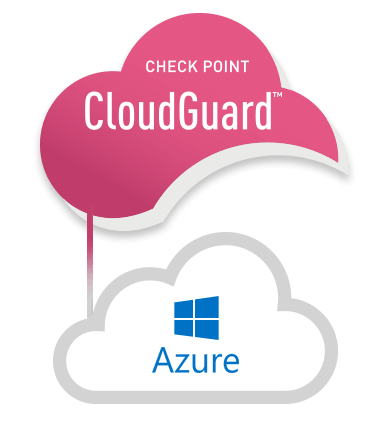 Powerful visualization of Microsoft Azure VNets, network security groups (NSGs) and network assets
In-place remediation of security misconfigurations
Active protection against vulnerabilities and attacks
Automation framework for compliance and security hardening
Enhancing your Azure Security
CloudGuard delivers unified cloud native security, posture management, workload protection and threat hunting to enterprises as they build their Microsoft Azure environments. Only with CloudGuard, organizations gain full visibility and control of their security posture, allowing them to minimize their attack surface and protect against vulnerabilities, identity compromise, and data loss in the cloud. CloudGuard agentless SaaS solution provides operational efficiency for faster time-to-protection.
CloudGuard provides technologies to visualize and assess security posture, detect misconfigurations, model and enforce gold standard policies, protect against attacks and insider threats, and comply with regulatory requirements and best practices. Enterprises choose CloudGuard as their key partner to improve Azure security and provide the active protection necessary throughout their cloud journey.
Powerful Security Visualization
CloudGuard Clarity is a powerful visualization capability in the CloudGuard platform providing intelligent visibility and situational awareness of the network security in your Microsoft Azure environment.
It is an agentless (API based) solution that gathers information from your Azure environments within minutes. It auto-classifies your assets based on level of exposure to the outside world and provides a real-time view of your network topology and workflow across network security groups (NSGs), VNets, subscriptions and regions.
The Tamper Protection capability of CloudGuard allows you to lock down your security posture by preventing unauthorized configuration changes, enforcing a security gold standard at all times.
CloudGuard continuously monitors Azure cloud accounts for changes outside the CloudGuard system and automatically reverts config changes to last known/approved state.
Compliance and Governance
For customers who have their data on Azure, ensuring common data and information security best practices are met is critical to adhering to regulatory and compliance standards such as PCI DSS, SOC 2 Type 2 and CIS Azure Foundations Benchmark.
The CloudGuard Compliance Engine delivers continuous compliance with built in Azure bundles that have over 200 security checks. It also provides automated data aggregation for faster compliance audits and security assessments as well as continuous monitoring and alerting of non-compliance.
Ready to Improve your Azure Security?